Klay Thompson, Karl Anthony Towns and Giannis Antetokounmpo impressed on a busy point-filled Saturday night in the NBA.
Saturday's results
Houston Rockets 108-117 Cleveland Cavaliers
Chicago Bulls 96-111 Minnesota Timberwolves
Denver Nuggets 105-98 Oklahoma City Thunder
New Orleans Pelicans 114-124 Washington Wizards
Boston Celtics 104-113 Dallas Mavericks
Sacramento Kings 116-117 Golden State Warriors
San Antonio Spurs 129-135 Milwaukee Bucks
Sacramento Kings 116-117 Golden State Warriors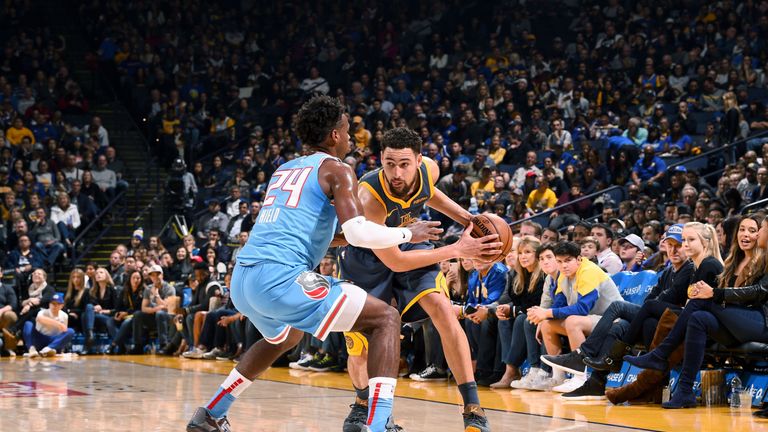 2:30
Highlights of the Sacramento Kings' clash with the Golden State Warriors in Week 6 of the NBA.
Klay Thompson capped a 31-point performance with a put-back of his own miss 5.8 seconds from the buzzer to lift the Golden State Warriors to a 117-116 win over the Sacramento Kings.
Kevin Durant poured in a game-high 44 points, including 17 in the fourth quarter, to help the Warriors edge past their Northern California rivals down the stretch en route to their second home win in two nights.
Golden State, still without Stephen Curry, had snapped a four-game losing streak with a 125-97 triumph over Portland on Friday at the Oracle Arena.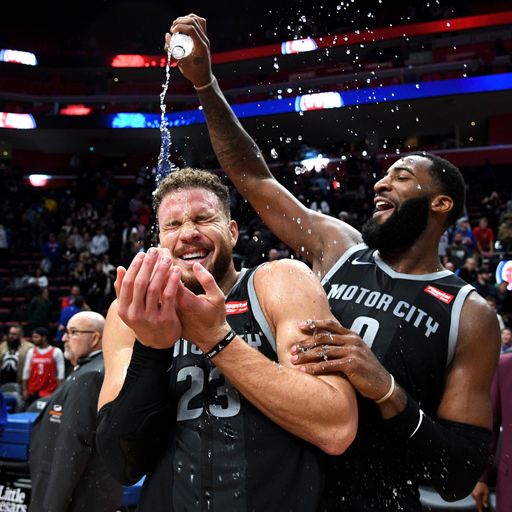 Get NBA news on your phone
Want the latest NBA news, features and highlights on your phone? Find out more…
Buddy Hield had a team-high 28 points for the Kings, and Marvin Bagley III added 20 points and 17 rebounds off the bench.
With the Kings leading 116-115, Durant missed a jump shot with 20 seconds left on the clock. Andre Iguodala snagged the offensive rebound, and Thompson's six-footer was blocked by the Kings' Willie Cauley-Stein, but he was able to get the ball back and make the vital layup.
Denver Nuggets 105-98 Oklahoma City Thunder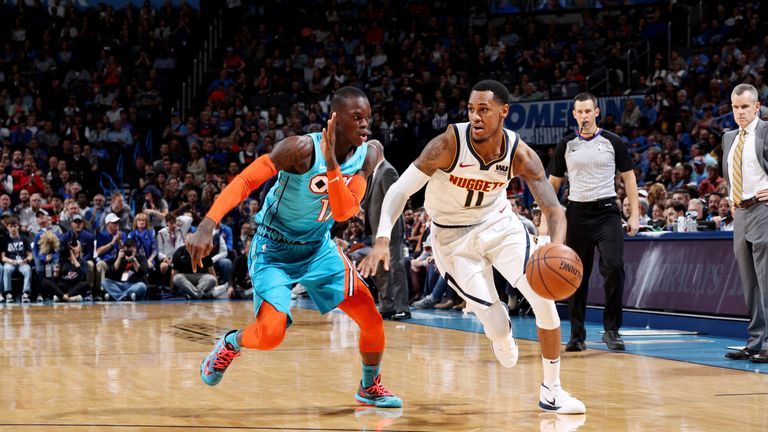 2:10
Highlights of the Denver Nuggets' clash with the Oklahoma City Thunder in Week 6 of the NBA.
Jamal Murray scored 22 points with eight rebounds and eight assists while Nikola Jokic and Trey Lyles added 16 points each as Denver secured a road win in Oklahoma City.
Juan Hernangomez contributed 15 points for the Nuggets, who have won three games in four days, having won at Minnesota on Wednesday and at home against Orlando on Friday.
Paul George had 24 points with 11 rebounds for the Thunder, and Russell Westbrook finished with his almost predictable triple-double – 16 points, 10 rebounds and 12 assists – but the home side suffered defeat for just the second time in their last seven games.
Boston Celtics 104-113 Dallas Mavericks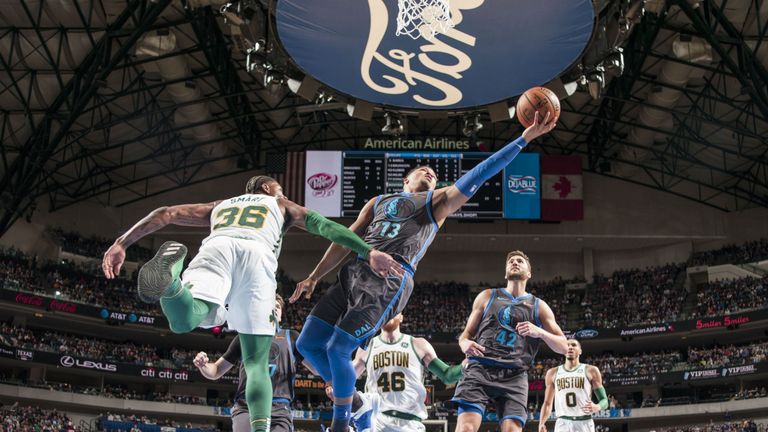 1:17
Highlights of the Boston Celtics' trip to the Dallas Mavericks in Week 6 of the NBA.
JJ Barea finished with 20 points, eight assists and a pair of steals in 26 minutes off the bench as Dallas won for the seventh time in nine games.
Barea scored seven points in the definitive opening seven minutes of the fourth quarter, including a three-pointer with 5:44 remaining that extended Dallas' lead to 13 points.
Live NBA: Orlando @ LA Lakers
Sunday 25th November 8:30pm
The lead grew to 16 moments later, and struggling Boston was unable to recover, not helped by the absence of Gordon Hayward with ankle soreness.
Dallas are back at .500 for the first time this season, the same mark as Boston who have so far failed to live up to pre-season expectations as one of the Eastern Conference favourites – they are already six games adrift of Atlantic leaders Toronto.
Houston Rockets 108-117 Cleveland Cavaliers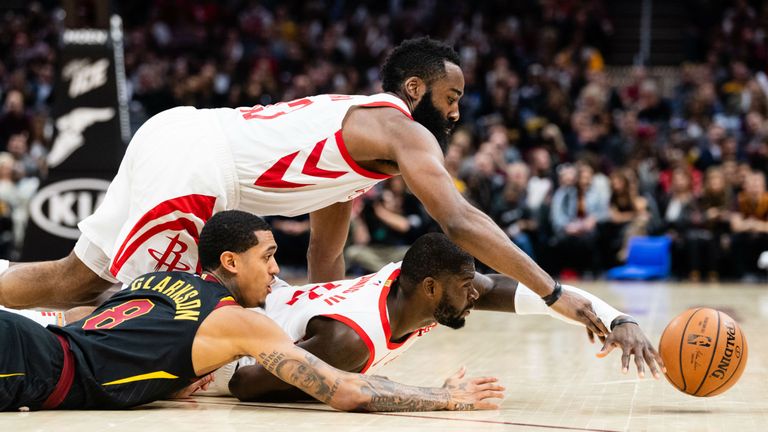 1:40
Highlights of the Houston Rockets' visit to the Cleveland Cavaliers in Week 6 of the NBA.
Rookie Collin Sexton scored a career-high 29 points in his eighth consecutive start as the Cavaliers claimed just their fourth win of the season against another of the season's most disappointing teams.
Sexton, starting for the injured George Hill, shot 14-for-21 to lead a balanced Cleveland offense, with Tristan Thompson finishing with 16 points and 20 rebounds.
James Harden scored 40 points, and dished out 13 assists, for the Rockets but they struggled badly in the paint where Thompson was able to dominate – they were also without the resting Chris Paul.
Eric Gordon started in Paul's place, and scored 28 points, but their frontcourt starting trio could manage only 24 points between them in a combined 110 minutes on court and the Rockets got little from their bench.
New Orleans Pelicans 114-124 Washington Wizards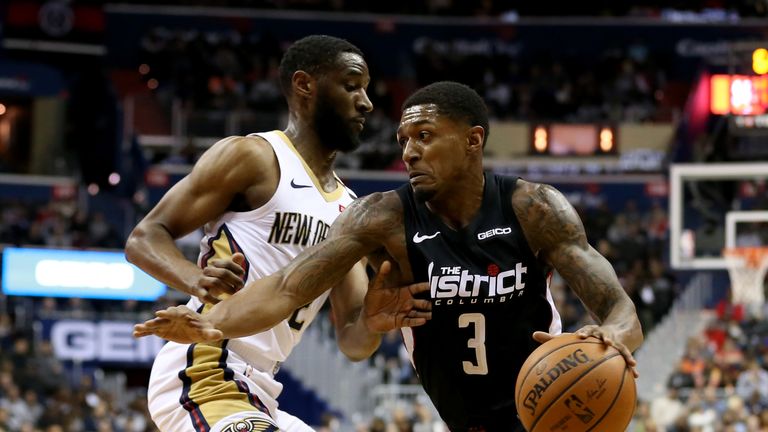 1:05
Highlights of the New Orleans Pelicans' trip to the Washington Wizards in Week 6 of the NBA.
Otto Porter Jr. scored a season-high 29 points and John Wall added 22 points, seven rebounds and eight assists to see off the Anthony Davis-less Pelicans.
Austin Rivers scored 18 points off the bench, and Bradley Beal had 18 points and eight assists for the Wizards, who had lost three of their last four games.
Live NBA: Washington @ New Orleans
Thursday 29th November 1:00am
Porter made 12 of 15 field-goal attempts, including three from three-point range, as the Wizards shot better than 56% and improved to 7-12 on the season.
Davis was absent with a right hip strain for New Orleans' final game on a road trip which ended 0-3 – they have a 2-9 road mark this season. Julius Randle made the most of a start to score 29 points and pull down 15 rebounds in a losing effort.
Chicago Bulls 96-111 Minnesota Timberwolves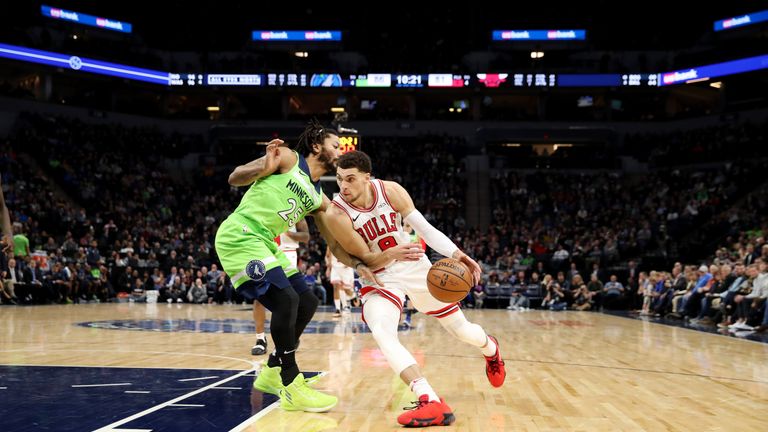 1:18
Highlights of the Chicago Bulls' trip to the Minnesota Timberwolves in Week 6 of the NBA
Karl-Anthony Towns scored 35 points and pulled down 22 rebounds for his 10th double-double of the season in a comfortable home victory for the Timberwolves.
Derrick Rose added 22 points on 9-for-13 shooting off the bench to help knock off his former team while fellow point guard Jeff Teague finished with 18 points for Minnesota, who are closing on .500 after a poor start to the season.
Zach LaVine scored 28 points to lead Chicago, but they have now lost six of their last seven games and sit in the bottom three in the Eastern Conference with a 5-15 record.
Jabari Parker had a season-high 27 points for the Bulls, and Justin Holiday registered his second consecutive double-double with 14 points and 11 rebounds, but their bench contributed only a dismal 15 points.
San Antonio Spurs 129-135 Milwaukee Bucks
2:21
Highlights of the San Antonio Spurs' visit to the Milwaukee Bucks in Week 6 of the NBA.
Giannis Antetokounmpo finished with 34 points, 18 rebounds and eight assists as Milwaukee rallied past San Antonio to avoid losing at home for the second successive night.
Milwaukee outscored San Antonio 40-27 in the fourth quarter for its fourth win in its past five games, with Malcolm Brogdon scoring 23 points on 10-of-15 shooting, including a key late three-pointer.
Khris Middleton chipped in 21 and Eric Bledsoe had 20 points and 10 assists as the Bucks' starting five combined for 107 points.
DeMar DeRozan scored 34 points for the Spurs, who lost for the sixth time in their last eight games. Bryn Forbes had 18 points, Davis Bertans scored 17 and LaMarcus Aldridge added 15.