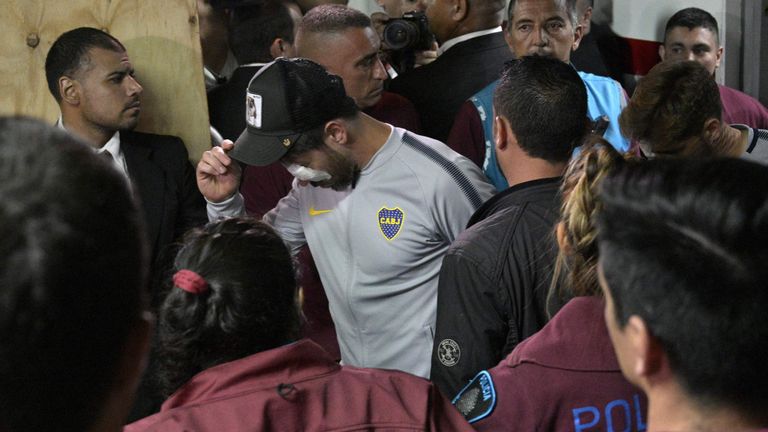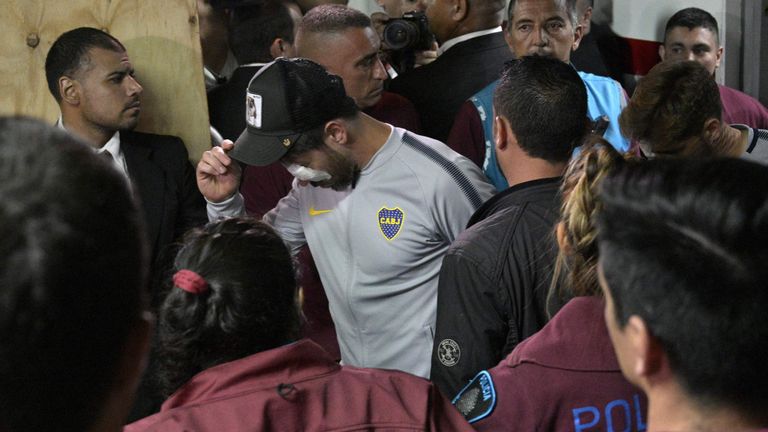 Boca Juniors' Pablo Perez and others were treated for injuries after the bus attack
The second leg of the Copa Libertadores final was postponed on Saturday evening after the Boca Juniors bus was attacked by rival fans.
The match has been rescheduled for Sunday and will kick off at 5pm local time (8pm GMT).
River Plate fans pelted the Boca Juniors bus with missiles as it arrived at the Monumental stadium in Buenos Aires.
The attack shattered several of the bus's windows, and Boca players were cut by broken glass and also suffered from smoke inhalation due to tear gas, which may have been fired by police as they tried to disperse the attackers.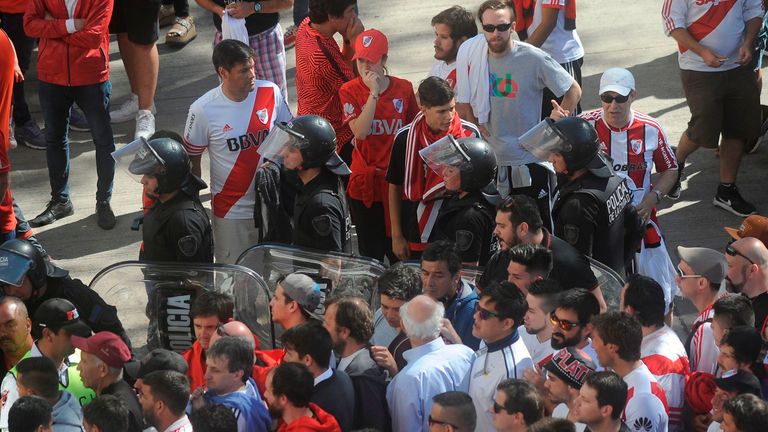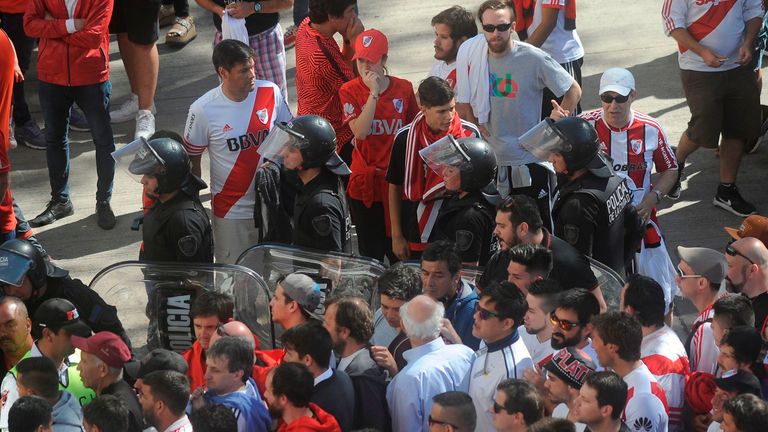 River Plate fans leave the stadium after the match was postponed
"They attacked us from everywhere," said Boca captain Pablo Perez, who was taken to a local hospital for treatment before returning to the ground.
The South American Football Federation (CONMEBOL) initially delayed the kick-off twice, before deciding to postpone.
CONMEBOL president Alejandro Dominguez said: "I want to congratulate both club presidents, because there has been a gentleman's agreement between them.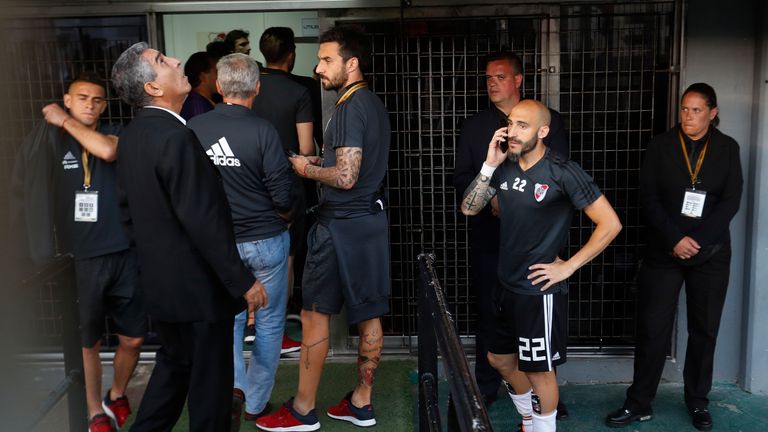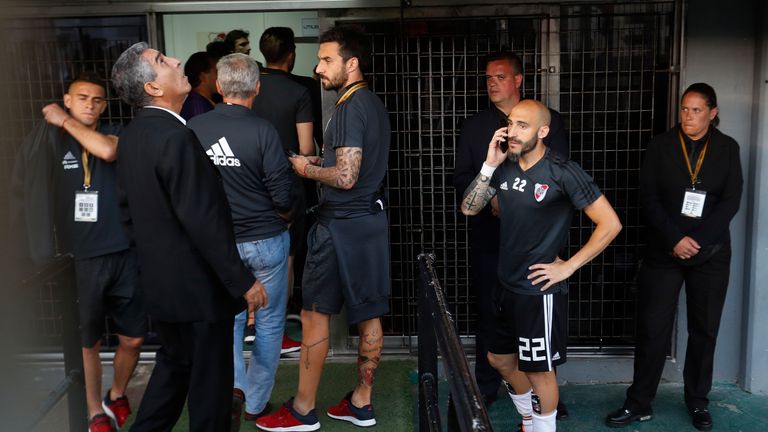 River Plate player Javier Pinola speaks on the phone after the match was postponed
"In these conditions, the game was distorted.
"One team couldn't play and the other doesn't want to play against a rival that isn't in the right conditions."
After Conmebol's original decision just to delay the match, Boca's former Manchester City forward Carlos Tevez told Fox television: "We're not in a condition to play. They're forcing us to play.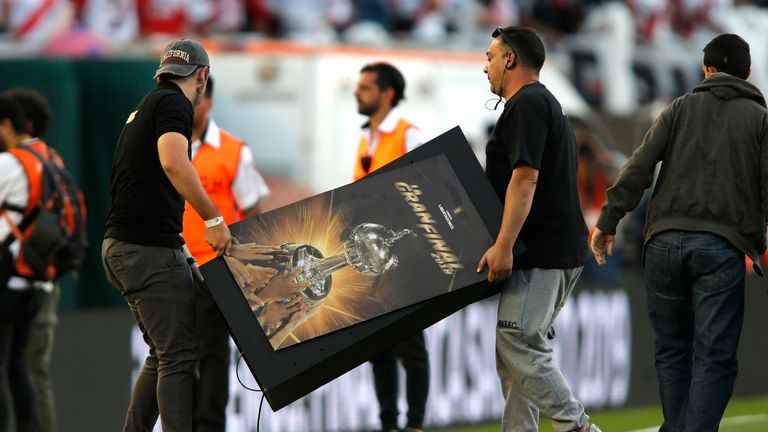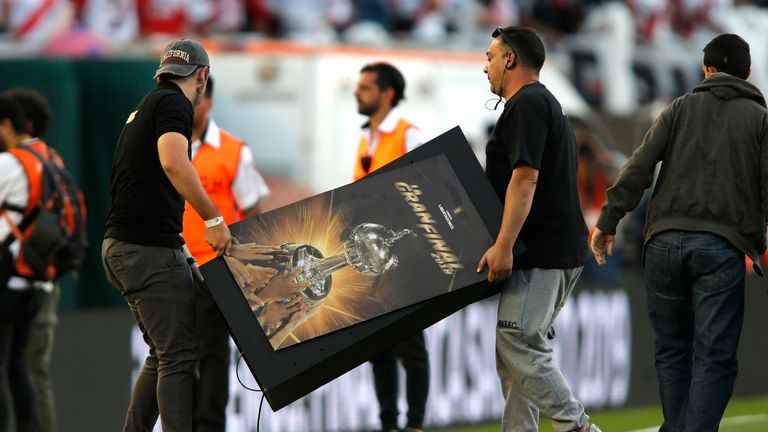 Organisers remove a sign from the Estadio Monumental pitch after the decision was taken to reschedule the second leg
"Pablo has just returned from hospital and has a bandage on his eye. Other team-mates have cuts.
"We've only just been able to breathe well, because we were affected by the gas. We can't play like this."
The two sides later came to an agreement to wait until Sunday for what has been dubbed the biggest club match in the history of Argentine football.
It is the first time that two Argentine teams have contested the final of the Copa Libertadores, the South American equivalent of Europe's Champions League.
The two sides are locked at 2-2 from the first leg two weeks ago, which was delayed for 24 hours due to the weather.