Leading the charge for one of the NBA's most talented young teams, learn more about Denver Nuggets center Nikola Jokic.
How about this for a stat? Nikola Jokic had more triple-doubles last season (nine) than he did dunks (eight).
Live NBA: Denver @ Oklahoma
Sunday 25th November 1:00am
That staggering figure – for a center no less – almost single-handedly sums up the Serbian's game: brilliant, unflashy and well-rounded in equal measure.
Now in his fourth year in the NBA, 'The Joker' is one of a host of international stars lighting up the league – though he is far from a conventional superstar.
At 7ft and 250lbs, Jokic has the body of your traditional center but the skillset of an oversized point guard. He is slow and slightly awkward, but exceptionally talented.
His offensive game is as complete as you will find. He can score from anywhere: equally dangerous with his back to the basket or shooting from deep. His passing rivals that of the league's better point guards, as does his court awareness and basketball IQ.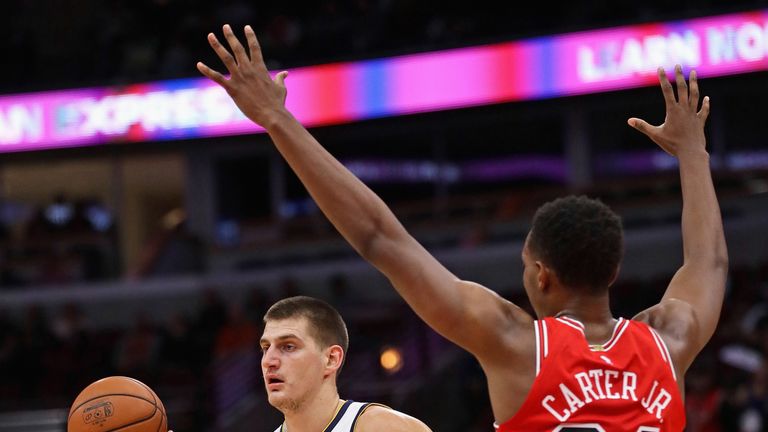 Image:
Nikola Jokic shows off his elite distribution skills
The sheer variety of his game makes him one of the league's toughest players to guard. He may be slow, but at times, he looks unstoppable.
But despite his considerable talents, Jokic has often flown under the radar. In some ways it is understandable.
His steady, unathletic style – as effective as it is – doesn't always lend itself to the nightly highlight reels. And the Nuggets, a small-market team who have not made the playoffs in five years, are not regular headline-makers.
That could change this season. The Nuggets came flying out of the gate this year, starting with a 9-1 record and being the first team to beat defending champions the Golden State Warriors.
That hot start didn't last. The Nuggets have slipped to six losses in their next eight games but they remain in the playoff places in a tightly-contested Western Conference, just behind the Warriors (12-7).
Jokic has been crucial to Denver's 11-7 start – averaging 17.2 points, 10.1 rebounds and 7.1 assists per game while shooting at a field goal percentage of 49.6.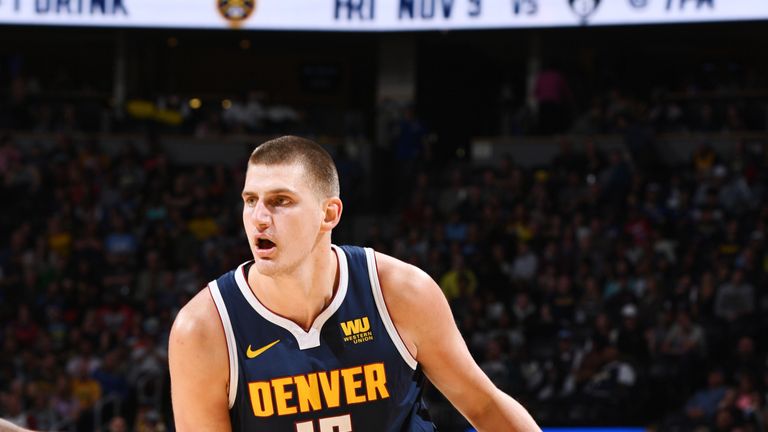 1:17
Watch Nikola Jokic score 35 points on 11-of-11 shooting against the Phoenix Suns
Most impressive was his performance against Phoenix, where he put up a historic stat line. Finishing the game with a 35-point triple double and no missed field goals (11-of-11), he became the first man to achieve that rare feat since the great Wilt Chamberlain over 50 years ago.
That performance erased any doubts over his star status. The Joker's official transformation from perilous Euro project to one of the league's great big men was complete.
It seems fitting that he is equalling such long-standing records. He has much more in common with the big men of the past than it does to the explosive athletes – think Anthony Davis or Karl-Anthony Towns – who dominate today's league.
Image:
Jokic drives to the basket against Phoenix
Watch him back a defender down for a hook shot or fire in a mid-range jump shot and you could be forgiven for thinking you were watching a game from the 70s or 80s, where fundamentals were key and the game was predominantly played below the rim.
This old-fashioned approach counted against The Joker at first.
He barely registered on the league's collective conscience when Denver drafted him with the 41st pick in 2014.
Then, he was plying his trade for the KK Mega Basket in the Adriatic League – a pub quiz question that would challenge even the most hardcore hardwood fan.
Budding European players are often treated with scepticism, stereotyped as slow, soft and unsuited to the physicality and pace of the NBA.
Jokic seemed to fit that unfortunate stereotype and therefore few would have been surprised if he had quickly faded into obscurity like so many prospects before him.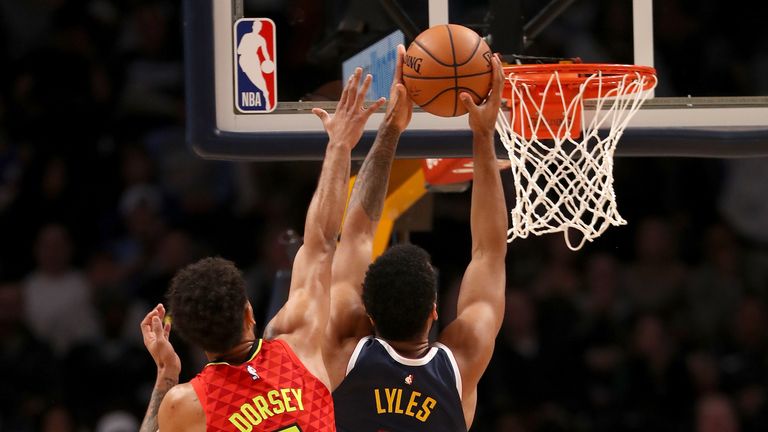 1:37
Highlights of the Denver Nuggets' thrashing of the Atlanta Hawks
Clearly, the Nuggets knew something about Jokic that the rest of us didn't.
He did not officially join Denver until the 2015-2016 season, following an MVP season in the Adriatic League. He put in some impressive pre-season performances and quickly saw court time as the campaign began.
His impact in the league was immediate. Few second-round picks impress quickly, but Jokic did. Despite playing just 20 minutes a game, he showed such potential that he finished third in Rookie of the Year voting.
Since then he has from strength to strength, his numbers rising across the board each season. His passing and vision, in particular, are among the best the league has ever seen from a man of his size.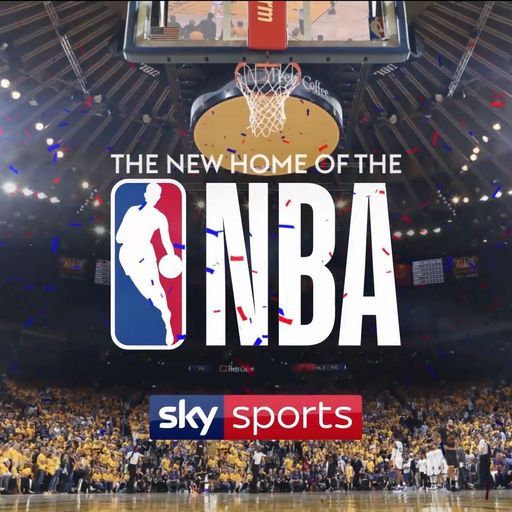 Get NBA news on your phone
Want the latest NBA news, features and highlights on your phone? Find out more
The Nuggets have realised Jokic's value, signing him to a five-year, $148m contract this summer. It raised a lot of eyebrows but with each game that passes, that money looks like a better and better investment.
Now, Jokic has to realise his value too. Despite his success, he still carries himself like the obscure second-round pick he once was, rather than the star he has become.
Shy and understated, he lacks the media profile that seems essential for NBA superstars in the modern age. Whether he is in Serbia or Colorado, attention is not something he always welcomes.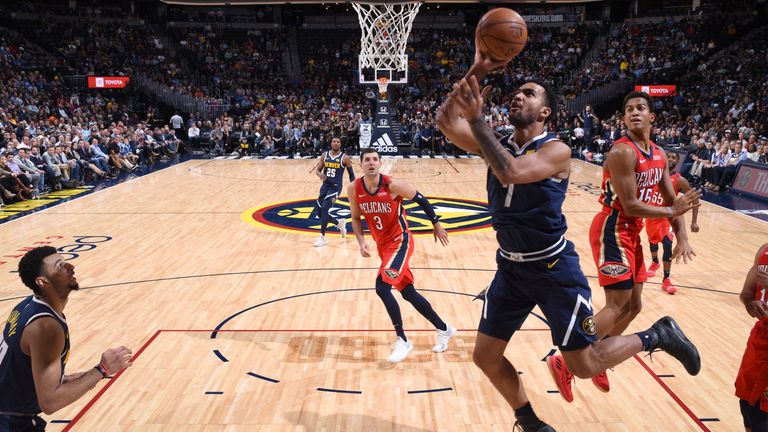 2:00
Highlights of the Denver Nuggets' statement win over the New Orleans Pelicans
His first move when he signed his new contract was to return to his hometown of Sombor, a few hours north of Belgrade, and tend to his stable of horses. If he wasn't in the NBA, Jokic said recently, he would be a stable boy.
As Nuggets coach Mike Malone put it: "Sometimes I don't think he realizes how good he is. There were times last year where we'd talk about other big men in the NBA. He would say, 'I don't think I'm as good as this guy or that guy,' and I'd look at him like, 'Are you crazy?'"
How far can the Nuggets go? They have plenty of underappreciated talent: Gary Harris, Jamal Murray and Paul Millsap to name three. Veteran Millsap aside, they are a young side and only getting better.
Nonetheless, and regardless of current form, there is a clear gulf between the Golden State Warriors and the rest.
Denver may have beaten them once, but they're not yet ready to challenge the champions over a seven-game play-off series.
But with such a young roster, time is on their side. Jokic will be there leading them, quietly and slowly, every step of the way.
Saturday night's games
Houston Rockets @ Cleveland Cavaliers, 12:30am
New Orleans Pelicans @ Washington Wizards, 1am
Chicago Bulls @ Minnesota Timberwolves, 1am
Denver Nuggets @ Oklahoma City Thunder, 1am, live on Sky Sports Arena
Sacramento Kings @ Golden State Warriors, 1:30am
Boston Celtics @ Dallas Mavericks, 1:30am
San Antonio Spurs @ Milwaukee Bucks, 1:30am
Sky Sports is the new home of the NBA in the UK with live coverage throughout the week, including selected live games free to all Sky subscribers via Sky Sports Mix.
And www.skysports.com/nba will be your home for news, reports, video and features throughout the season while you can follow us @SkySportsNBA