The Toronto Raptors and Boston Celtics boast two of the NBA's deepest rosters and are legitimate NBA title contenders. However, the two Eastern Conference heavyweights have experienced contrasting starts to the season.
What's behind the Raptors' strong start and why have the Celtics struggled out of the gate?
Raptors' two-way depth
Toronto raced to 12 wins in their opening 13 games, including a 113-101 victory over Boston and their first four-game sweep on a Western road trip. Despite losing their last two outings, the Raptors have established themselves as the Eastern Conference's best team.
Live NBA: Toronto @ Boston
While the Philadelphia 76ers and the Boston Celtics – their likeliest rivals for top spot in the East come April – have built their rosters around star power (the Sixers with Joel Embiid and, latterly, Jimmy Butler; the Celtics with Kyrie Irving and, pending full recovery, Gordon Hayward), the Raptors have a scarily-deep squad of two-way players, two of them – Kyle Lowry and summer signing Kawhi Leonard – of All-Star calibre.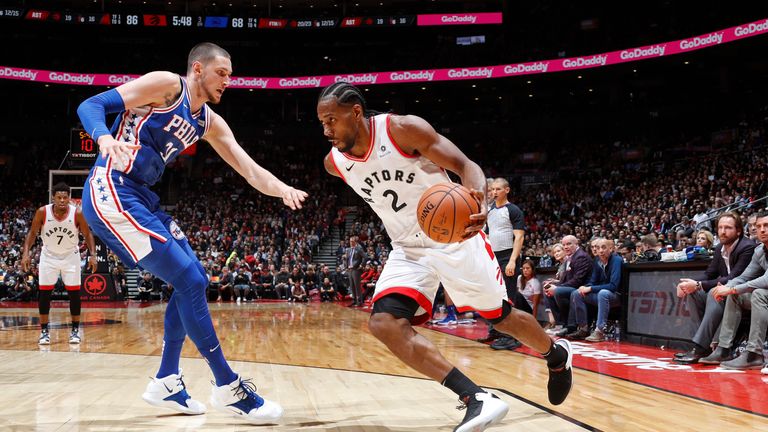 Image:
Kawhi Leonard drives to the basket against the Sixers
The NBA has long been defined by its marquee players, something the Raptors know all too well. LeBron James became their personal bete noire, leading the Cleveland Cavaliers to multiple playoff series wins over the Raptors and crushing Canadian hopes.
But with James now in Los Angeles and the Raptors clear at the top of the Eastern Conference, is the time right for a different kind of team to emerge from the East?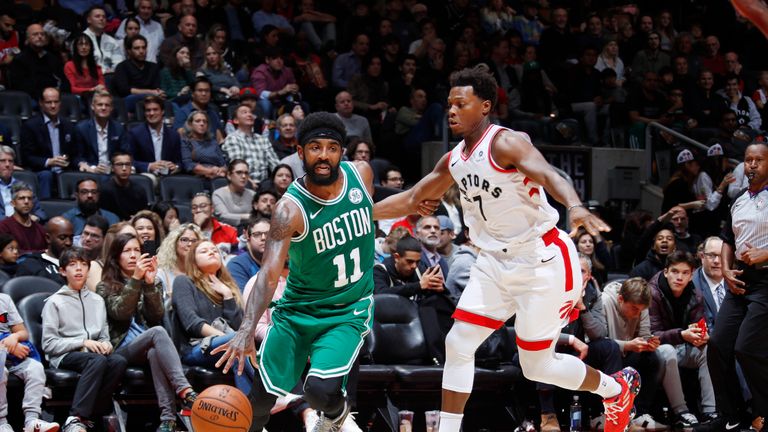 2:34
Highlights from the season's first meeting between the Boston Celtics and the Toronto Raptors
So far this campaign, the answer is a resounding 'yes'. The Raptors' wins have come with contributions from their starting five and many of their bench players. Comparisons to the 2004 Detroit Pistons, the last team to win the NBA title without a marquee superstar, can't be far away.
Emergence of Siakam, Anunoby next
Leonard, who has fitted in seamlessly following a painful divorce from the San Antonio Spurs, and Lowry have led their charge but the performances of young role players OG Anunoby, Fred VanVleet and, most notably, Pascal Siakam have also caught the eye.
Siakam recently earned Eastern Conference player of the week honours, averaging 20 points per game at an ultra-efficient 72.4 field goal percentage across three Raptors wins.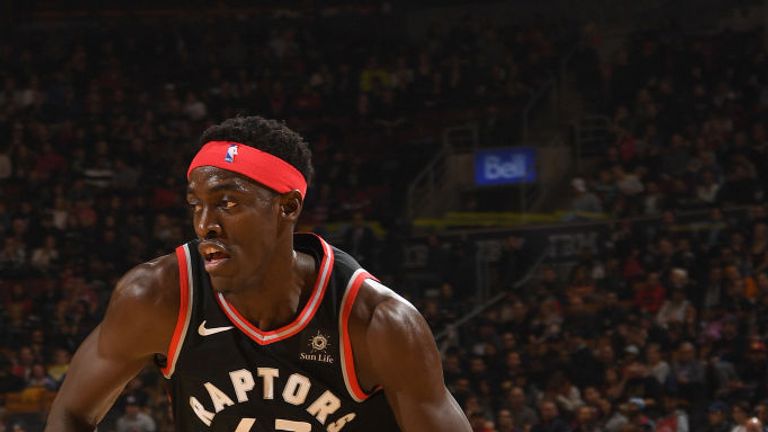 Image:
Pascal Siakam is enjoying a breakout season
His defensive performances have been just as impressive, his ability to guard all five positions giving coach Nick Nurse increased versatility in terms of line-ups.
Siakam's pace, work-rate and efficiency mark him out as a potential breakout star this season, one with All-Star potential if he continues to improve.
Siakam's development can act as a template for Anunoby, whose raw strength and athleticism have already ensured he is a quality defensive operator, one with a similar combination of agility and strength shown by team-mate Leonard in his younger days in San Antonio.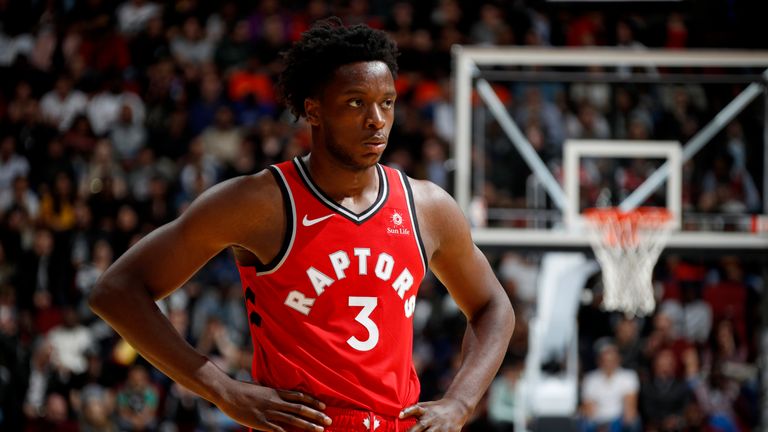 Image:
OG Anunoby has demonstrated excellent defensive skills
Toronto's strength has been further augmented by veterans Serge Ibaka (17.4 PPG, 8.4 RPG) and Jonas Valanciunas (13.1 PPG, 7.5 RPG).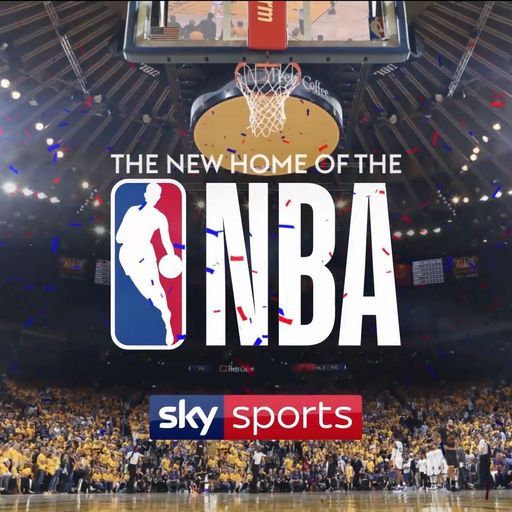 Get NBA news on your phone
Want the latest NBA news, features and highlights on your phone? Find out more
With contributions coming from that many sources, it's no surprise the Raptors rank third in the league for points per game (116.5). A more telling indication of their success is the fact they are the only team to rank in the league's Top 10 for offensive rating (points scored per 100 possessions – fourth) and defensive rating (points allowed per 100 possessions – ninth), per basketball-reference.com – proof of their two-way depth.
Celtics' scoring woes
For a team predicted to rule the Eastern Conference in the wake of LeBron James' move to the West, the Celtics' offensive numbers make for terrifying reading.
Through 14 games, they rank 28th in field goal percentage (42.9), 29th in free throws attempted (19.1 per game) and 25th in points per game (105.6), per basketball-reference.com. They also rank 27th in passes per game, which suggests a reliance on isolation-heavy offense.
They only factor keeping them afloat offensively is their three-point shooting – only four teams have made more shots from beyond the arc than the 'Gang Green'. That, and their No 1-ranked defense, is what has earned them their eight wins to date.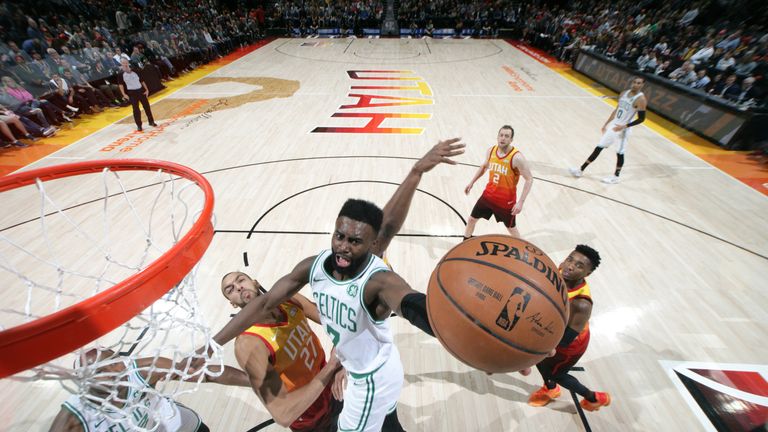 Image:
Jaylen Brown attacks the rim against Utah
The passes-per-game statistic points to the key issue – this roster, despite featuring many players who starred for Boston last year, has not gelled together.
While the Celtics' roster depth (and defensive quality) mirrors that of the Raptors, their offense pales in comparison. And while scoring outbursts from Kyrie Irving will win them one-off games, they must solve their lack of offensive cohesion.
Looking specifically at shooting, Boston's key players are all shooting less efficiently than last season. Jayson Tatum (40.9 field goal percentage this year, 47.5 in 2017/18), Irving (47.6 FG per cent this year, 49.6 in 2017/18), Al Horford (45.2 FG per cent this year, 48.9 in 2017/18) and Jaylen Brown (38.3 FG per cent this year, 46.5 in 2017/18) have all struggled to replicate their success last year.
One reason for that is all four players are having to adapt to the returning Gordon Hayward.
The Hayward conundrum
Hayward's Celtics career was left in ruins five minutes into his debut on the opening night of the 2017/18 season. He suffered a horrific ankle injury and did not play for the rest of the year.
After a long period of rehabilitation, Hayward returned to the court looking like a shadow of his All-Star self. His field goal percentage and three-point shooting percentage are way down. He is also attempting far fewer free throws than in his Utah tenure, suggesting an unwillingness to drive to the basket and absorb contact (which is understandable, given the severity of his injury).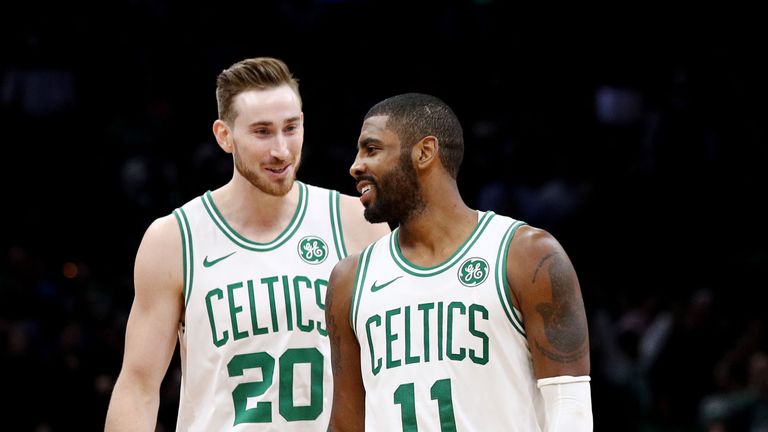 Image:
Boston's players need to adapt to the returning Gordon Hayward
Given the Celtics' offensive struggles, a short-term fix would be to bring the former Utah Jazz star off the bench with the second unit. But he has started every game, suggesting coach Brad Stevens is focused on the long-term goal of getting Hayward back up to speed as quickly as possible, regardless of how long it takes.
If that continues, and Hayward's team-mates – who thrived without him last season – can't adjust to his presence (be it limited or at full capacity), the Celtics' offensive woes are likely to continue.
And by that time, the Raptors lead over them in the race for the Eastern Conference's No 1 playoff seed may be insurmountable.
Friday night's games
Toronto Raptors @ Boston Celtics, 12am, live on Sky Sports Arena
Miami Heat @ Indiana Pacers, 12am
Utah Jazz @ Philadelphia 76ers, 12am
Brooklyn Nets @ Washington Wizards, 12am
Portland Trail Blazers @ Minnesota Timberwolves, 1am
New York Knicks @ New Orleans Pelicans, 1am
Sacramento Kings @ Memphis Grizzlies, 1am
Chicago Bulls @ Milwaukee Bucks, 2:30am
Sky Sports is the new home of the NBA in the UK with live coverage throughout the week, including selected live games free to all Sky subscribers via Sky Sports Mix.
And www.skysports.com/nba will be your home for news, reports, video and features throughout the season while you can follow us @SkySportsNBA