Every Monday, we look back over the last seven days of NBA action and identify the five players who had cause to celebrate.
Jrue Holiday (New Orleans Pelicans)
New Orleans have won three of four in the last seven days – including a 126-110 triumph over the previously soaring Raptors – and now rank second in the league in points per game this season despite their modest 9-7 record.
And in the absence of injured Elfrid Payton, it is Jrue Holiday pacing the Louisiana side.
The 28-year-old is dropping dimes like no other player in the league. He recorded a mammoth 42 assists in week four at an average of 10.5 per game while also putting up 21.5 points per game in the same period.
1:51
Highlights of the Denver Nuggets' visit to the New Orleans Pelicans in the NBA.
His 24 points and 10 rebounds in Friday's win against the New York Knicks was his third straight double-double. Against Toronto, as well as his 14 assists, he shot a phenomenal 63.2 per cent from the floor and landed three of seven three-point attempts.
With Payton out with a fractured finger having only just returned from a sprained ankle, Holiday can expect to be the main distributor for some time to come.
Paul George (Oklahoma City Thunder)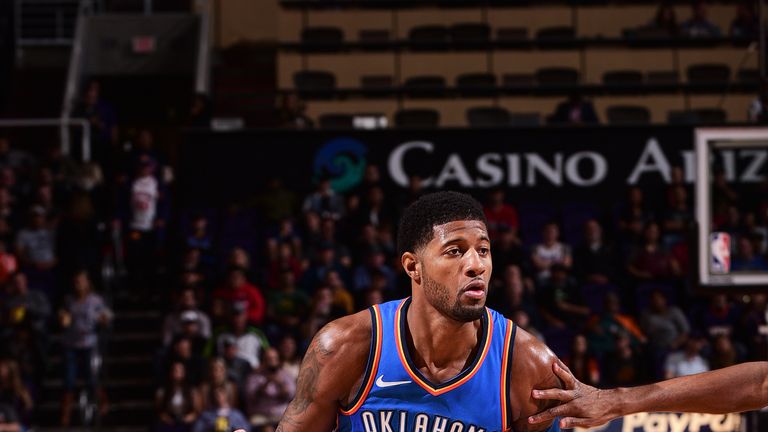 Image:
Paul George is having a career-year through the early part of the season
Paul George is having to manage a lingering nerve issue in his left foot, but you wouldn't know it. The five-time All-Star is enjoying a career-year in a number of categories and he's dragging his Thunder team along with him.
The Thunder won all three of their games in week four and have now won 10 of their last 11 – a 111-96 defeat to Dallas at the back-end of last week their only aberration since falling to an 0-4 start to the season.
Since the loss to Dallas, George has twice put up 32 points on Phoenix and 35 on the Knicks and is a perfect 91-of-19 from the free-throw line.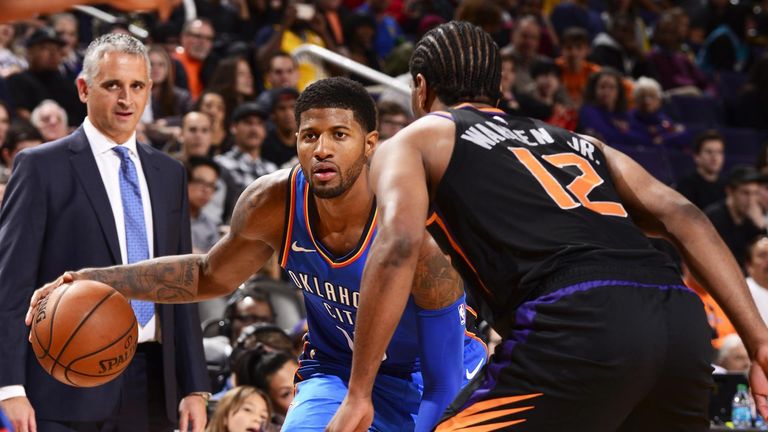 1:46
Highlights of the Oklahoma City Thunder visit to the Phoenix Suns in the NBA.
Through 15 games this season, he is averaging career-highs in points (24.1), rebounds (7.8), assists (4.4), and steals (2.5) and it's made a huge difference for the Thunder, who haven't missed a step in the absence of Russell Westbrook, who has missed six games because of an ankle injury and the birth of his twin daughters.
Thunder head coach Billy Donovan said: "It's huge, because it allows everybody else to run and it's a little bit different when your point guard's not necessarily bringing the ball up the floor. All of the sudden, George is getting matched up against the other team's point guards."
LeBron James (LA Lakers)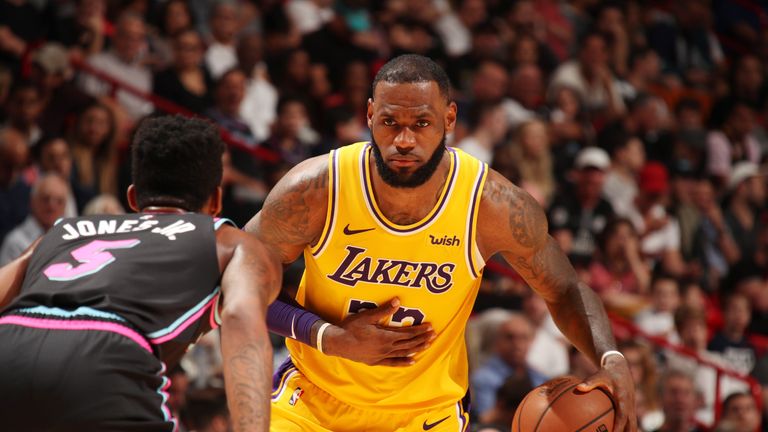 1:09
LeBron James grabbed an incredible 51 points, 8 rebounds and 3 assists against former team Miami Heat.
It's predictable, but then LeBron is predictable. He just keeps putting up the numbers.
He was on this list last week and he's on it again this, thanks largely to his huge 51-point night against the Miami Heat on Sunday – a barnstorming display which saw him become just the fifth player in NBA history to score 50-plus points with three different teams.
The Lakers have won seven of their last nine to sit just two games behind conference leaders Portland
Coach Luke Walton sought plenty of advice from LeBron's former coaches about how to handle the star, including his opposite number on Sunday night in Erik Spoelstra, and it seems to have paid off.
"We had a really good talk," Walton said of Spoelstra. "We talked for a couple hours. And he was great."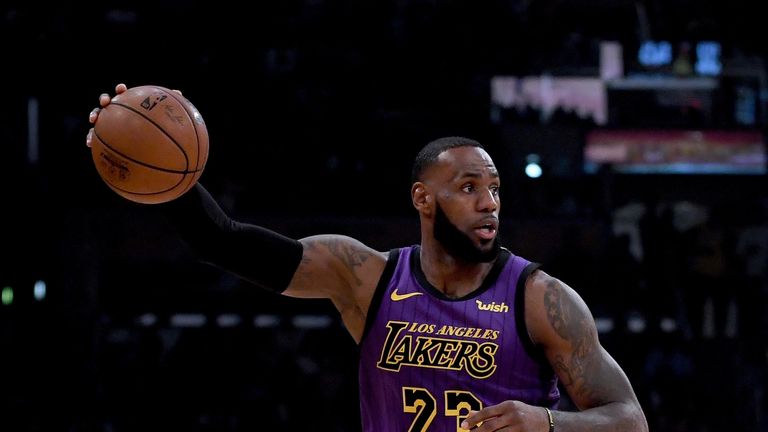 1:31
LeBron James has become the fifth highest points scorer in NBA history, passing Wilt Chamberlain, as the Los Angeles Lakers beat the Portland Trailblazers 126-117.
Spoelstra coached James for four years in south Florida and speaking ahead of Sunday's game, said Walton was the perfect person for LeBron and the Lakers.
"He's the perfect guy to coach that team. He has purple and gold bleeding from him. He is a Laker. He did a tremendous job with Golden State when he had to take over for Steve Kerr.
"And if you look at his whole professional career, all of [it] he has been involved with are teams like this with great expectations, with a lot of pressure and a lot of noise," Spoelstra continued. "He doesn't know any different. I don't think you can find a better fit to coach that team."
With LeBron averaging 39 points in three games in week four, it's certainly rubbing off.
Anthony Davis (New Orleans Pelicans)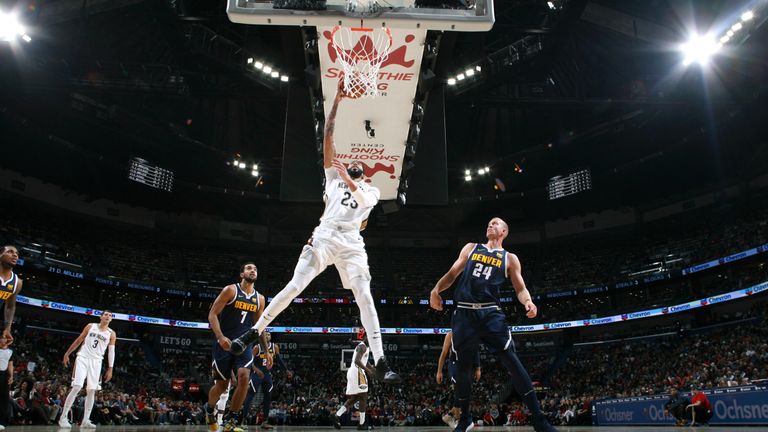 Image:
Anthony Davis has been pouring it on in recent games
If it wasn't for a certain No 23 in Los Angeles, The Brow would be the hottest scorer in the NBA right now and so he's our second Pelican on the list this week.
In his four games over the last seven days, the 25-year-old has scored 137 points at 34.3, including consecutive 40-point nights against the Knicks and Nuggets over the weekend.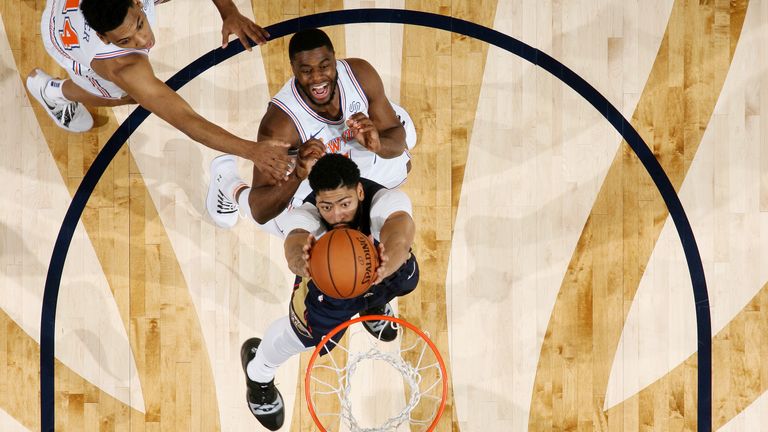 2:02
Anthony Davis puts up a dominant performance scoring a season-high 43 points against the Knicks
Add to that 56 rebounds and 21 assists and you get the rumours that have surfaced this week that he and the Warriors' Kevin Durant could join LeBron in LA to form a Big Three to end all Big Threes.
There's a long way to go before anything like that happens, not least some manner of cap-space miracle work on the west coast, although Davis is signed to the same agency as LeBron.
In the meantime, the 9-7 Pelicans are happy to ride this wave and see where it takes them.
James Harden (Houston Rockets)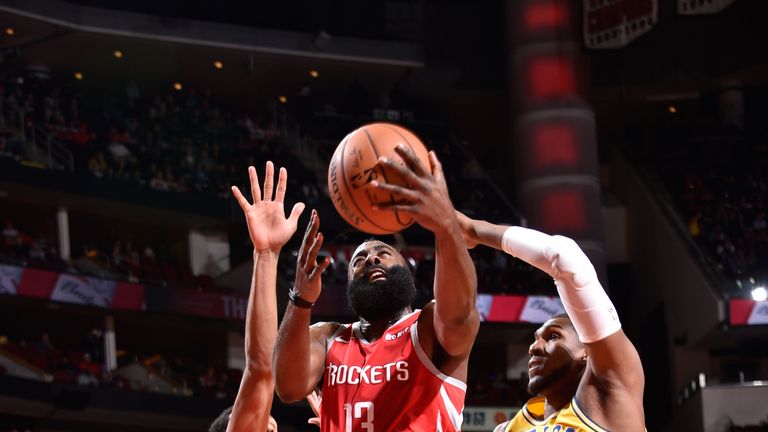 Image:
James Harden has dragged the Rockets out of their early-season malaise
It's something of an All-Star list this week. These are the best players for a reason – because they do it in the grind of November and not just when the nights are drawing out and there's a championship on the line.
Last year's MVP helped the surging Rockets win all three of their games in week four, averaging 27.7 points and 7.3 assists in victories over Denver, Golden State and Sacramento as Houston improved to 8-7 having lost five of their first six games.
Harden missed three games earlier in the season with a hamstring injury, but after the tumult surrounding their early part of the season – Chris Paul suspended for two games for his part in the brawl with the Lakers and Carmelo Anthony's ill-fated spell looking like coming to a premature end – he has returned to provide some much-needed stability.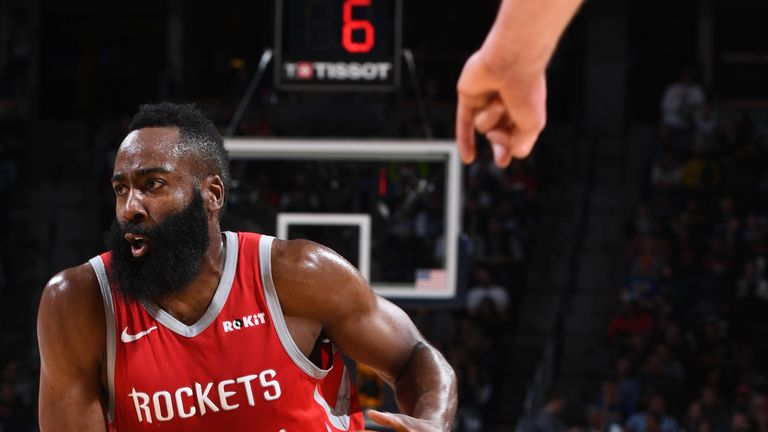 2:25
James Harden scores 22 points and dishes out 11 assists as the Rockets get the win over the Nuggets.
And he says the team is starting to find its groove.
"Our first five or six games were injuries and suspensions and a lot of just nonsense. So, we never really had our full team. We never really got an opportunity to catch a rhythm.
"We were never fully healthy. We finally got our guys healthy and the right rotations and things like that. And it feels better. It feels like last year."
Sky Sports is the new home of the NBA in the UK with live coverage throughout the week, including selected live games free to all Sky subscribers via Sky Sports Mix.
And www.skysports.com/nba will be your home for news, reports, video and features throughout the season while you can follow us @SkySportsNBA.