Karl-Anthony Towns top-scored with 25 points as the Minnesota Timberwolves beat the New Orleans Pelicans.
Wednesday night's results
New Orleans Pelicans 100-107 Minnesota Timberwolves
Portland Trail Blazers 117-126 Los Angeles Lakers
Detroit Pistons 106-104 Toronto Raptors
New York Knicks 103-128 Oklahoma City Thunder
Philadelphia 76ers 106-111 Orlando Magic
Cleveland Cavaliers 95-119 Washington Wizards
Chicago Bulls 82-111 Boston Celtics
Miami Heat 120-107 Brooklyn Nets
Memphis Grizzlies 116-113 Milwaukee Bucks
San Antonio Spurs 96-116 Phoenix Suns
Utah Jazz 68-118 Dallas Mavericks
New Orleans Pelicans 100-107 Minnesota Timberwolves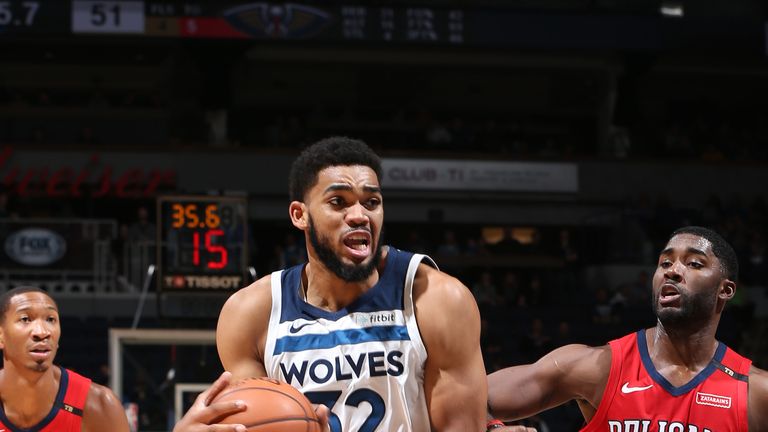 2:09
Highlights of the New Orleans Pelicans' visit to the Minnesota Timberwolves
New Timberwolves Dario Saric and Robert Covington made their debuts but it was Karl-Anthony Towns and Andrew Wiggins who led Minnesota to a 107-100 victory against the New Orleans Pelicans on Wednesday night.
Towns had 25 points and 16 rebounds and Wiggins scored 23 points. They were supported by the principal players in the Jimmy Butler trade as Covington scored 13 and Saric came off the bench to score nine.
E'Twaun Moore led the Pelicans by scoring 31 points two nights after he had 30 in his team's third straight victory, a 126-110 win at Toronto. Anthony Davis had 29 points and 11 rebounds, Nikola Mirotic had 16 points and 10 rebounds and Jrue Holiday had 14 points and 10 assists.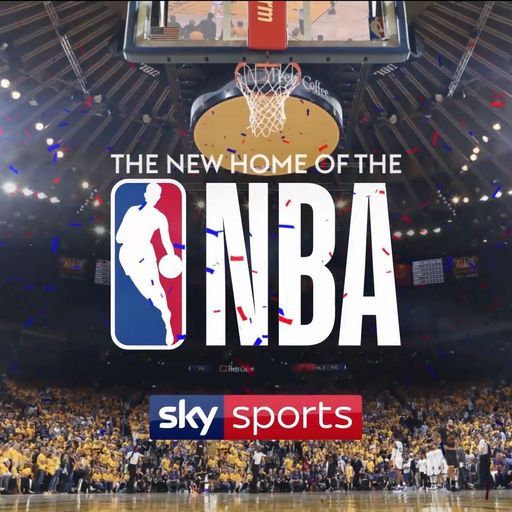 Get NBA news on your phone
Want the latest NBA news, features and highlights on your phone? Find out more
Minnesota led by four after three quarters and built the lead to 11 early in the fourth. Davis scored five points and Holiday's basket completed an 8-0 run that gave New Orleans its only lead of the game at 96-94, but the Pelicans scored just four points in the final four and a half minutes.
Wiggins' three-pointer put Minnesota back on top and he added a free throw, Covington made a layup and Towns a free throw to increase the lead to 101-96 with three minutes left.
After a basket by Mirotic, Gibson made a free throw and Wiggins had a three-point play to give the Wolves a 105-98 lead and seal the win.
Portland Trail Blazers 117-126 Los Angeles Lakers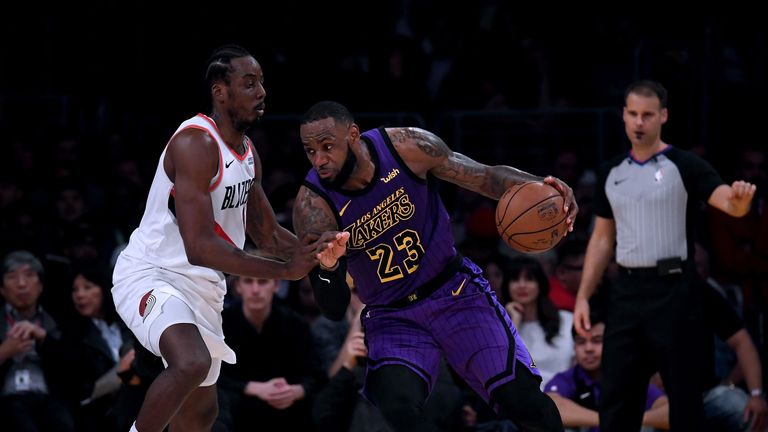 2:12
Highlights of the Portland Trail Blazers' visit to the Los Angeles Lakers
LeBron James scored a season-high 44 points and passed Wilt Chamberlain to take fifth place on the all-time NBA scoring list while leading the Los Angeles Lakers to a 126-117 victory against the visiting Portland Trail Blazers.
James added 10 rebounds and nine assists as the Lakers earned their fourth win in a row.
JaVale McGee scored 20 points, Brandon Ingram had 17 points and Kentavious Caldwell-Pope scored 13 off the bench for the Lakers, who ended a nine-game home losing streak to Portland.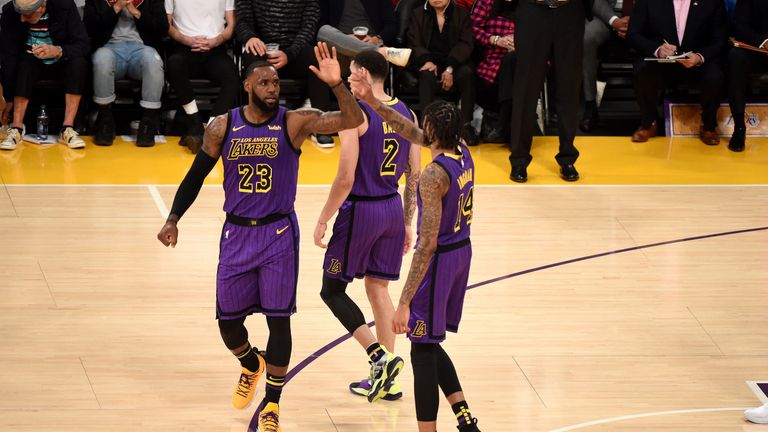 Image:
LeBron James high-fives team-mate Brandon Ingram
Damian Lillard had 31 points, eight rebounds and 11 assists, CJ McCollum scored 23 points, and Jusuf Nurkic finished with 21 points and 14 rebounds for the Trail Blazers.
With 3:55 left in the fourth quarter, James passed Chamberlain (31,419 points) on a three-point play, hitting a 12-foot jump shot and sinking the ensuing foul shot for a 121-106 Los Angeles lead. James now has 31,425 career points.
Detroit Pistons 106-104 Toronto Raptors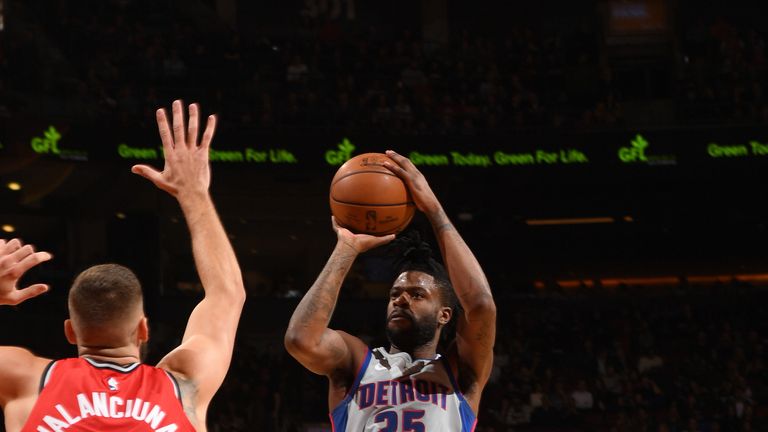 2:45
Highlights of the Detroit Pistons' visit to the Toronto Raptors
Reggie Bullock hit a five-foot fadeaway jumper at the buzzer with an assist from former Raptor Jose Calderon to earn the Detroit Pistons a 106-104 road victory over the Toronto Raptors
Blake Griffin scored 30 points and grabbed 12 rebounds to help Detroit come back from a 19-point third-quarter deficit.
The win made it a happy return to Toronto for Pistons coach Dwane Casey, who was fired in the offseason after seven seasons as the Raptors' coach. Casey received a warm ovation and a video tribute to mark his return.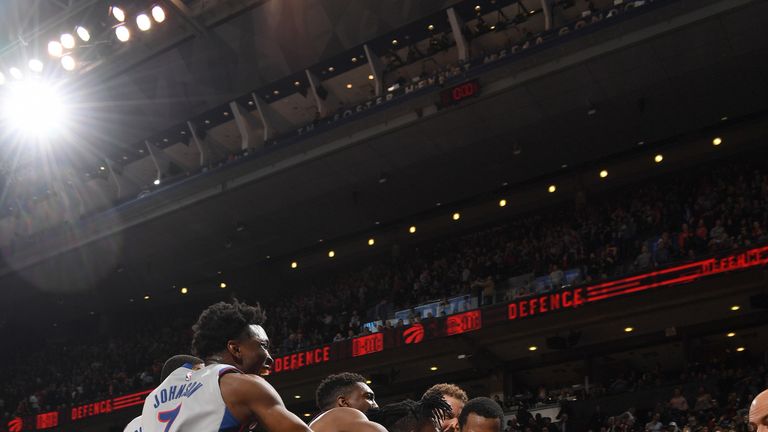 Image:
Reggie Bullock is mobbed by team-mates after his game-winning shot
Langston Galloway and Reggie Jackson each had 13 points for the Pistons, who gave Toronto their second consecutive loss.
Stanley Johnson added 12 points for Detroit, and Andre Drummond had 11 points and 14 rebounds.
Kawhi Leonard scored 26 points and grabbed nine rebounds for Toronto. Pascal Siakam also had 17 points and Jonas Valanciunas and Kyle Lowry scored 14 points apiece.
New York Knicks 103-128 Oklahoma City Thunder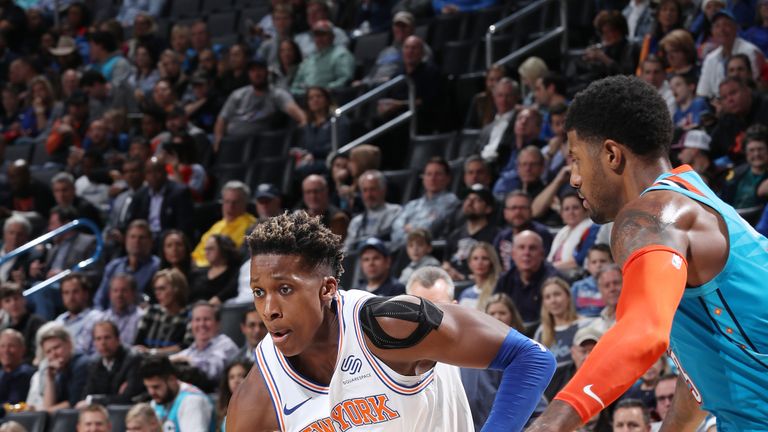 1:27
Highlights of the New York Knicks' visit to the Oklahoma City Thunder
Taking the lead once again with Russell Westbrook injured, Oklahoma City's Paul George scored 35 points as the Thunder cruised past the New York Knicks 128-103 at Chesapeake Energy Arena, winning for the ninth time in their past 10 games.
The Thunder never trailed, leading by 15 after one quarter and never letting the Knicks get closer than 10 the rest of the way.
George scored 17 of his points in the third quarter and shot 13-of-22 from the field overall, including 5-of-11 from behind the three-point line.
Steven Adams added 19 points while Dennis Schroder added 15 points and a season-high 12 assists.
Tim Hardaway Jr led the Knicks with 20 points while Enes Kanter scored 19 off the bench. The Knicks were just 7-of-26 from behind the arc.
Philadelphia 76ers 106-111 Orlando Magic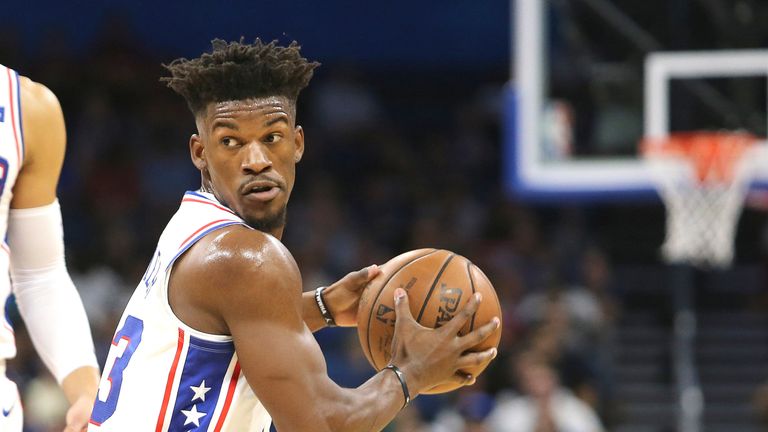 2:28
Highlights of the Philadelphia 76ers' trip to face the Orlando Magic in week five of the NBA
Ross dribbled out the shot clock and hit a three-pointer from the top of the key to give Orlando a 109-106 lead with 8.7 seconds left.
Philadelphia had a chance to tie, but JJ Redick stepped out of bounds on a dribble handoff, and Nikola Vucevic iced the game away with two free throws.
Vucevic scored a season-high 30 points to go along with eight rebounds, and Aaron Gordon added 17 points and six rebounds.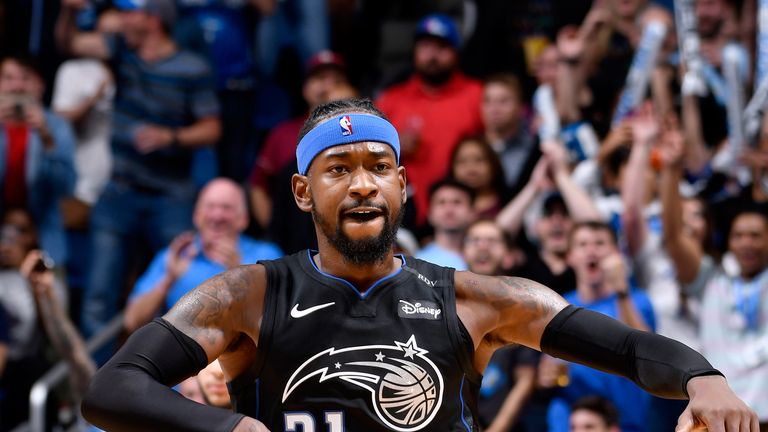 Image:
Terrence Ross celebrates his late three-pointer
Orlando have now won five of their last eight games.
Redick led the 76ers with 22 points. Joel Embiid earned his league-leading 15th double-double with 19 points and 13 rebounds, but was held to just three points in the second half.
Butler had 14 points in his first game for Philadelphia after being traded from Minnesota last Saturday along with Justin Patton for Robert Covington, Dario Saric, Jerryd Bayless and a second-round pick.
Cleveland Cavaliers 95-119 Washington Wizards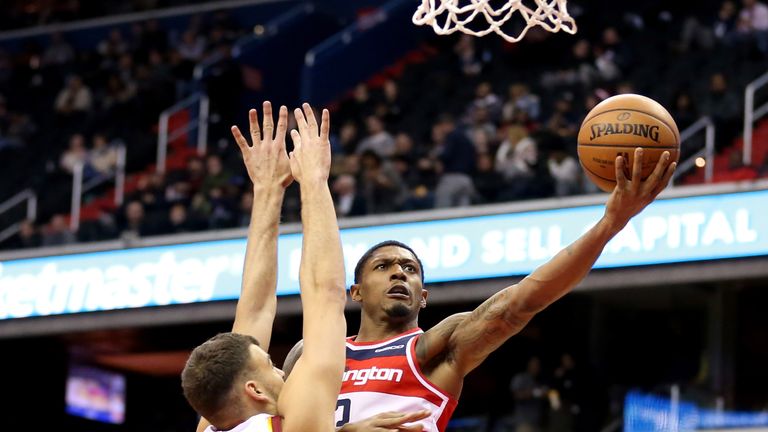 1:12
Highlights of the Cleveland Cavaliers' trip to face the Washington Wizards in week five of the NBA
Bradley Beal scored 20 points and Otto Porter Jr added 15 as the Washington Wizards routed the visiting Cleveland Cavaliers 119-95 for their third straight win.
The Wizards never trailed and got 12 points from Austin Rivers and 11 from Markieff Morris.
Rookie Collin Sexton had a career-high 24 points for the Cavaliers, who were playing the second of back-to-back games. David Nwaba added 11 points off the bench.
In addition to forward Kevin Love (foot surgery), the Cavaliers were without starting point guard George Hill (hamstring), forward Sam Dekker (ankle) and forward Kyle Korver (sore right foot).
Porter scored 11 points in the opening quarter as Washington shot 60 per cent (15 of 25) and led by as many as 13.
The Wizards pulled away early in the second quarter when their reserves went on a 15-0 run capped by Kelly Oubre's dunk to make it 56-32.
A 13-2 Cavaliers run got them within 82-69 in the third, but Markieff Morris hit a three-pointer as the Wizards scored seven straight points to put the game out of reach.
Chicago Bulls 82-111 Boston Celtics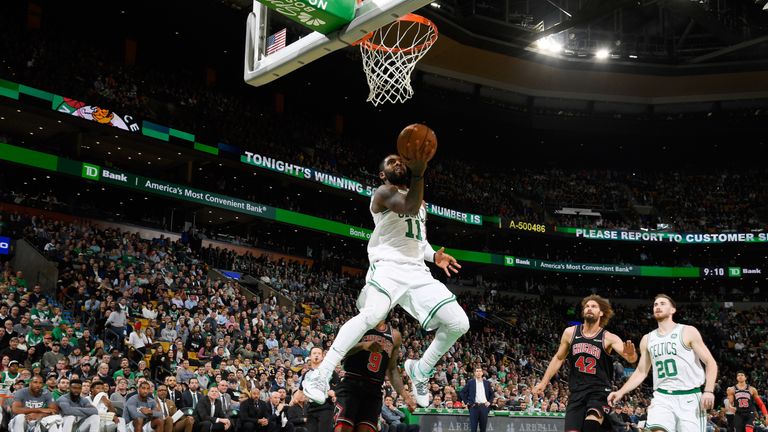 1:20
Highlights of the Chicago Bulls' trip to face the Boston Celtics in week five of the NBA
Jaylen Brown scored 18 points on 8-for-14 shooting as the Boston Celtics cruised to a 111-82 win over the visiting Chicago Bulls.
Kyrie Irving finished with 17 points, seven assists and six rebounds while committing one turnover in 28 minutes. Jayson Tatum (14 points), Gordon Hayward (11) and Al Horford (10) also contributed to the blowout as all five starters scored in double digits.
Shaquille Harrison scored 16 points off the bench to lead the Bulls. Jabari Parker added 14 points on 6-for-13 shooting and rookie Wendell Carter Jr contributed 11 and seven rebounds.
Boston snapped a two-game losing streak and posted its most lopsided victory of the season. Chicago lost by at least 25 points for the third time this season.
Bulls guard Zach LaVine finished with 10 points on 3-for-11 shooting, which ended his career-high streak of 15 games in a row with at least 20 points. The only player in franchise history with a longer 20-point streak is Michael Jordan.
Miami Heat 120-107 Brooklyn Nets
1:16
Highlights of the Miami Heat's visit to the Brooklyn Nets
Reserve Tyler Johnson scored a season-high 24 points as the Miami Heat snapped a three-game losing streak by leading wire-to-wire in a 120-107 road victory over the Brooklyn Nets.
After taking three straight home losses due to struggles in the fourth quarter, the Heat led by double-digits for most of the game, shot a season-best 54.1 per cent and won for the third time in their last nine games.
Although they led by double-digits for most of the game, the Heat allowed the Nets to get within 106-97 on a three-pointer by Shabazz Napier with 4:28 remaining. Miami then clinched the win when Johnson hit a three-pointer for a 114-98 lead with 3:05 left.
Johnson shot 9 of 12 and led six Heat players in double figures. Goran Dragic added 21, Josh Richardson contributed 15 and Hassan Whiteside notched his 10th double-double with 14 and 10 rebounds. Reserve Spencer Dinwiddie led the Nets with 18 points.
Memphis Grizzlies 116-113 Milwaukee Bucks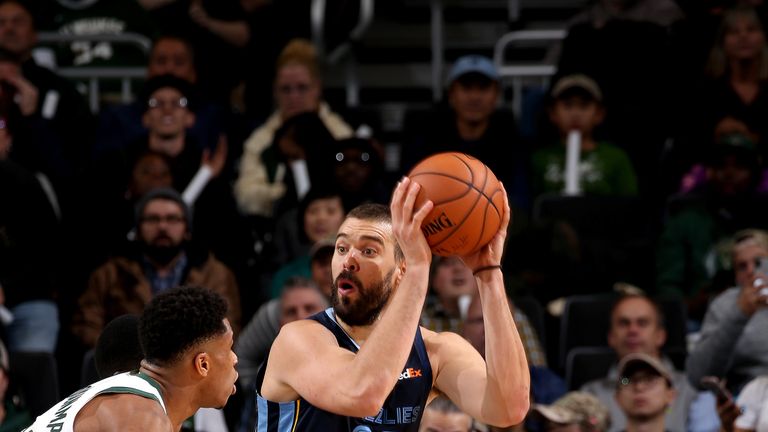 2:19
Highlights of the Memphis Grizzlies' visit to the Milwaukee Bucks
Garrett Temple scored seven of his 11 points in a late flurry that allowed the Memphis Grizzlies to rally past the host Milwaukee Bucks and seal a 116-113 victory.
Marc Gasol had 29 points and Mike Conley 26 for the Grizzlies, who won for just the third time in seven road games this season.
Giannis Antetokounmpo had game highs in points (31) and rebounds (nine) for the Bucks.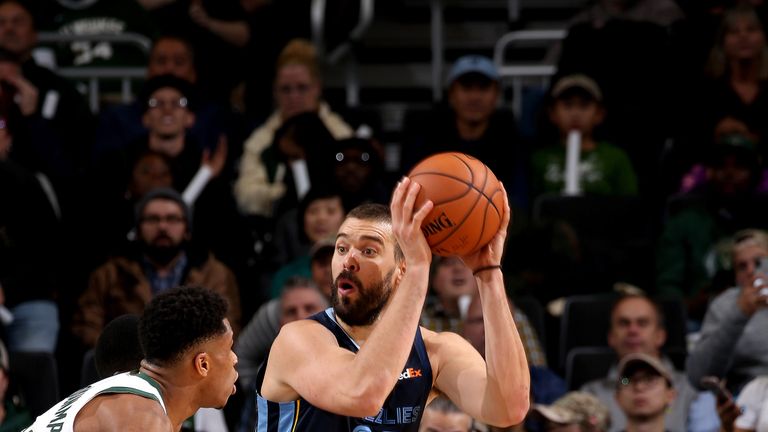 Image:
Marc Gasol in action during his 29-point display against San Antonio
After a three-pointer by Eric Bledsoe put the Bucks on top 99-94 with 5:20 to go, Temple converted a three-point play and then made a 3-pointer to give the Grizzlies the lead for good.
The Bucks got within two on three subsequent occasions, but the Grizzlies had an answer every time, with Conley providing a jumper and two free throws before Shelvin Mack made one of two foul shots for a three-point lead with 2.1 seconds left.
Khris Middleton misfired on a potential game-tying 3-point attempt at the horn.
San Antonio Spurs 96-116 Phoenix Suns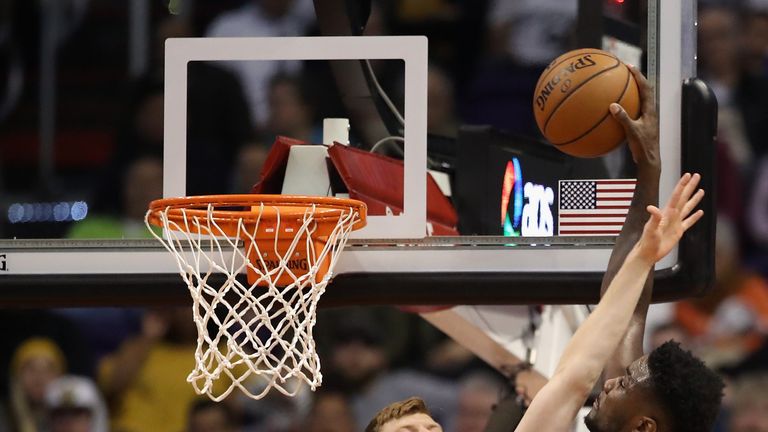 1:47
Highlights of the San Antonio Spurs' visit to the Phoenix Suns
TJ Warren poured in 27 points to lead five team-mates in double-figure scoring as the hapless Phoenix Suns took out a month's worth of frustration with a resounding 116-96 win over the visiting San Antonio Spurs.
Phoenix led by just two points midway through the third quarter, but then reeled off a 17-6 run capped by a Warren three-pointer with 1:27 to play in the period to take charge of the game for good.
The win snapped a four-game losing streak for the Suns, who have now won three of 14 games this season.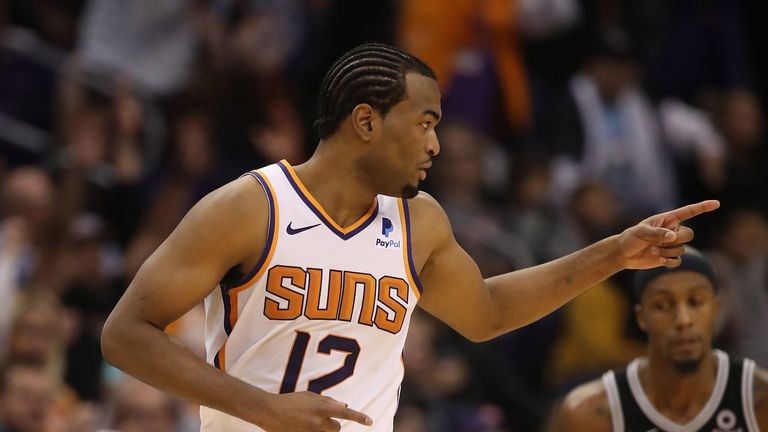 Image:
TJ Warren in action during Phoenix's surprise win over San Antonio
Isaiah Canaan scored 19 points for Phoenix, while Deandre Ayton added 17 points and 10 rebounds, Josh Jackson contributed 14 points, Devin Booker tallied 13 points and dished out 12 assists, and Jamal Crawford totalled 11 points for the Suns.
DeMar DeRozan's 24 points led San Antonio, who have lost four of their past five games. Derrick White added 16 points, Bryn Forbes scored 13 and Marco Belinelli pumped in 10 points for the Spurs, who also got 12 rebounds (but just six points in 29 minutes) from LaMarcus Aldridge.
Utah Jazz 68-118 Dallas Mavericks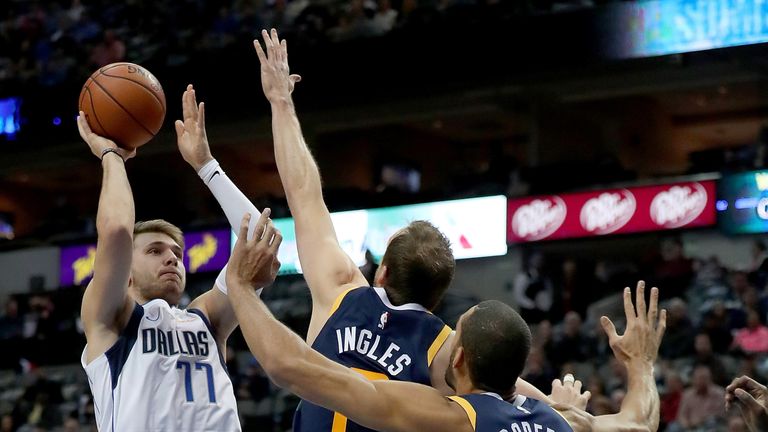 1:39
Highlights of the Utah Jazz's visit to the Dallas Mavericks
Dallas Mavericks forward Harrison Barnes continues to round into shape after missing the early season with an injury, leading the Dallas Mavericks to a 118-68 wipeout of the visiting Utah Jazz.
Barnes scored a game-high 19 points on 6-of-11 shooting as the Mavs secured their first three-game win streak of the season and first since last December.
The 50-point win marked the Mavs' largest margin of victory since beating Philadelphia by 53 points on November 23, 2014, and it was the third 50-point victory in franchise history.
Dallas set a franchise record for fewest points allowed in any half, allowing the Jazz just 22 in the second half – 13 in the third quarter and just nine in the fourth.
The Mavericks quickly blew open a 58-46 half-time lead with a 26-13 third quarter that gave them a 78-55 lead with 2:56 left in the quarter. At that point, the Jazz, who entered the game tied with a league-high five road wins, had shot just-22-of 62 from the floor, including 6-of-28 from beyond the arc. The Jazz also finished with 21 turnovers.
Sky Sports is the new home of the NBA in the UK with live coverage throughout the week, including selected live games free to all Sky subscribers via Sky Sports Mix.
And www.skysports.com/nba will be your home for news, reports, video and features throughout the season while you can follow us @SkySportsNBA