Kemba Walker scored 60 points for the Charlotte Hornets and still ended up on the losing side as the Philadelphia 76ers pounced to claim a thrilling victory in overtime on a busy Saturday night in the NBA.
Live NBA: Memphis @ Minnesota
Sunday 18th November 8:30pm
Philadelphia 76ers 122-119 Charlotte Hornets (OT)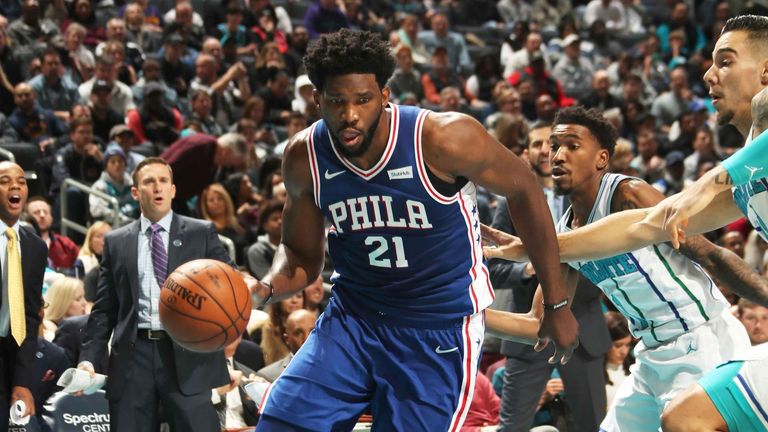 3:46
Highlights of the Philadelphia 76ers' visit to the Charlotte Hornets in the NBA.
Jimmy Butler came up clutch in overtime to lead the 76ers past the Hornets and deny Kemba Walker victory on the best night of his NBA career.
Recent 76ers addition Butler, who had struggled with his shot throughout, blocked a Walker shot during the extra five minutes and then hit a key three-pointer to ice the game.
Until overtime, it had been "The Kemba Show" with the Hornets guard hitting 21 of his 34 shots for a 60-point haul, including six three-pointers – he also had seven rebounds, four assists and four steals.
Joel Embiid scored 33 points for the 76ers, who also got 23 apiece from Ben Simmons and JJ Redick.
Denver Nuggets 115-125 New Orleans Pelicans
1:51
Highlights of the Denver Nuggets' visit to the New Orleans Pelicans in the NBA.
Anthony Davis had his second consecutive 40-point game as Pelicans held on to beat the Nuggets in New Orleans.
Davis, who had 43 points one night earlier, led five Pelicans in double figures as the team won for the fifth time in its last six games.
Julius Randle came off the bench to score 21 points and grab 10 rebounds, Nikola Mirotic had 20 points and 10 rebounds, Jrue Holiday overcame foul trouble to score 19 points and E'Twaun Moore added 13.
Nikola Jokic had 25 points and 10 rebounds to lead the Nuggets, but they are now only 5-5 in their last 10 games after a red-hot start to the season.
Golden State Warriors 109-112 Dallas Mavericks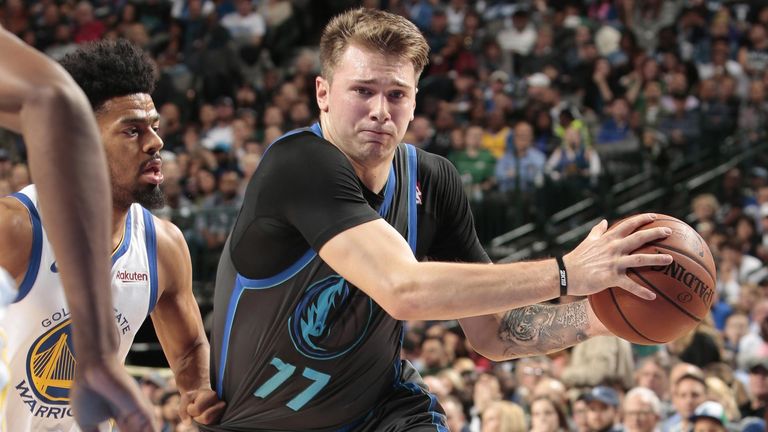 1:56
Highlights of the Golden State Warriors' visit to the Dallas Mavericks in the NBA.
Rookie sensation Luka Doncic scored 24 points, including one of the key late baskets, as the Mavericks ensured Golden State would lose a second straight game for the first time this season.
The 19-year-old hit a 10-footer with just over a minute remaining to secure the advantage Dallas needed and they held off a Warriors team still lacking Steph Curry and Draymond Green.
Kevin Durant scored 32 points for the Warriors, but missed a series of possibly game-turning shots in the fourth quarter, as did Klay Thompson who scored 22 points in defeat.
Sacramento Kings 112-132 Houston Rockets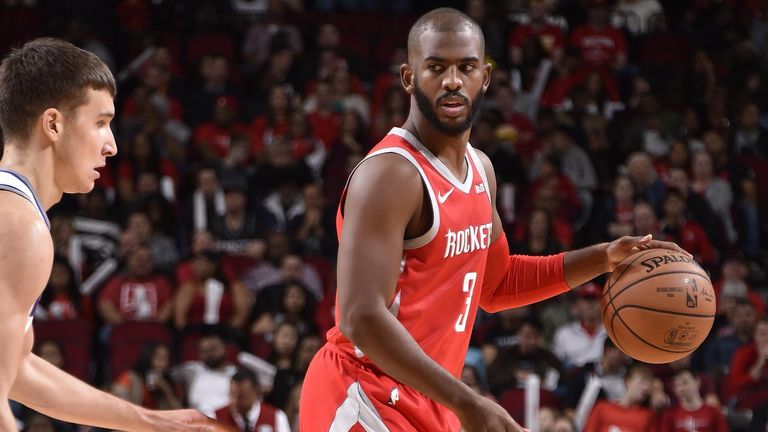 1:24
Highlights of the Sacramento Kings' visit to the Houston Rockets in the NBA
James Harden and Chris Paul combined for 58 points and 17 assists while Clint Capela recorded a double-double in a romp for Houston in Sacramento.
Harden finished with 34 points and eight assists, while Paul made six three-point shots and had 24 points and nine assists as the Rockets won their fourth straight and their seventh in their last nine games.
Houston seized control with a 20-5 run that bridged the opening two periods and rolled from there, drilling 20 from behind the arc while taking advantage of a Kings defense that offered little resistance.
Kings guard and Houston native De'Aaron Fox scored 19 points, while his backcourt mate Buddy Hield had 23 points and seven rebounds, but they are now 2-5 in their last seven games after a good start to the campaign.
Atlanta Hawks 89-97 Indiana Pacers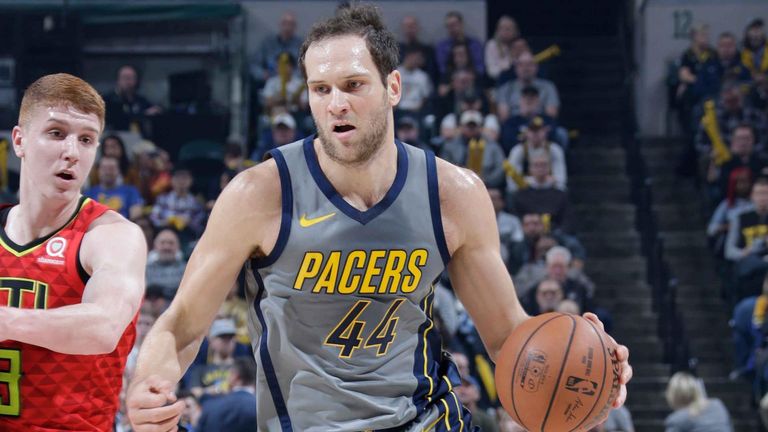 1:25
Highlights of the Atlanta Hawks' visit to the Indiana Pacers in the NBA
Bojan Bogdanovic picked up the slack after an early injury to Victor Oladipo, scoring 22 points to lead the Pacers to victory.
Bogdanovic, the NBA leader in three-point percentage, was 3-for-5 beyond the arc and 7-for-12 from the field. He added four rebounds and helped the Pacers win their second in a row.
The Pacers played most of the game without Oladipo, who left after only four minutes with a sore right knee. Oladipo, who had seen his streak of 20-point games end at 13 in his last start, scored only two points before departing and is rated day-to-day.
Oklahoma City Thunder 110-100 Phoenix Suns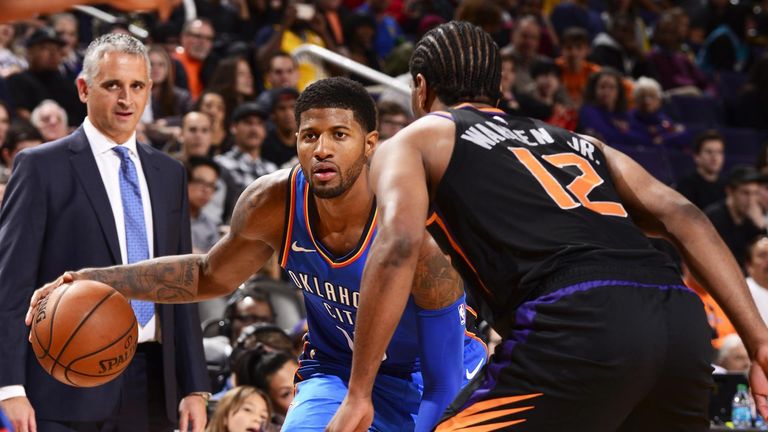 1:46
Highlights of the Oklahoma City Thunder visit to the Phoenix Suns in the NBA.
Paul George and Steven Adams combined for 13 points in a 17-4 flurry to open the second half as the Oklahoma City Thunder pulled away from the Phoenix Suns.
George logged a 32-point, 11-rebound double-double, while Adams off went for 26 points and 10 rebounds, helping the Thunder beat the Suns for the third time this season.
TJ Warren had a team-high 23 points for the Suns, who have lost five of their last six games.
Los Angeles Lakers 117-130 Orlando Magic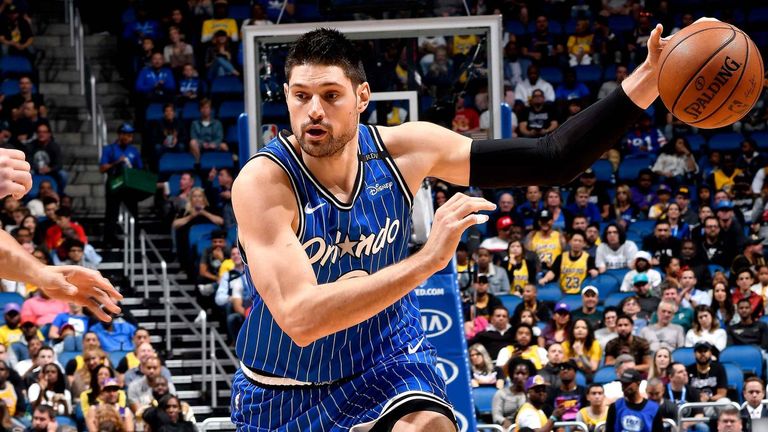 1:33
Highlights of the Los Angeles Lakers' visit to the Orlando Magic in the NBA
A big second quarter and a sensational performance from Nikola Vucevic helped the Magic snap the Lakers' four-game winning streak
Orlando made six three-pointers in the second quarter and outscored the Lakers 37-22 to overcome a first-quarter deficit.
Live NBA: LA Lakers @ Cleveland
Thursday 22nd November 1:00am
Vucevic kept things going in the third quarter with 16 points in the period alone, with both he and DJ Augustin (22 points) scoring season highs.
The Magic's 130 points were the most they have scored this season, and they kept LeBron James to 22 points on eight-of-19 shooting.
Toronto Raptors 122-83 Chicago Bulls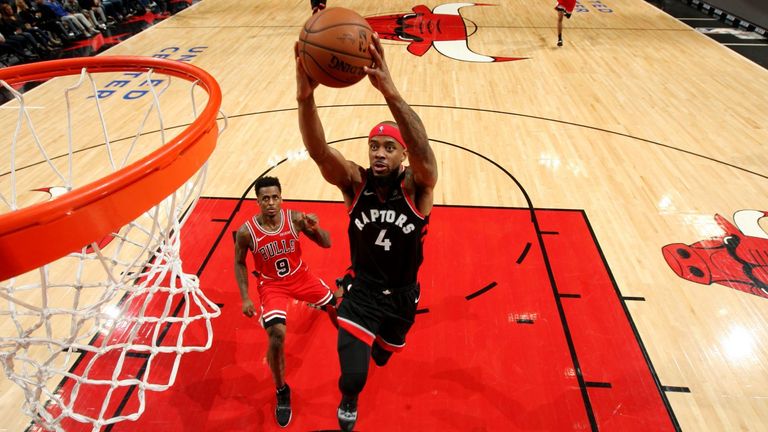 1:18
Highlights of the Toronto Raptors' visit to the Chicago Bulls in the NBA.
Fred VanVleet scored 18 points on 7-for-11 shooting in his first career start in 126 NBA games to help the Raptors post their largest road win in franchise history in Chicago.
Danny Green finished with 17 points and made all seven of his shots. Serge Ibaka (16 points), Pascal Siakam (12) and Lorenzo Brown (10) also scored in double digits for the Raptors, whose 39-point margin of victory fell five points shy of their all-time high.
Antonio Blakeney led the Bulls with 13 points off the bench. Jabari Parker and Justin Holiday contributed 12 points apiece for Chicago, but they are now on a four-game losing streak.
Utah Jazz 98-86 Boston Celtics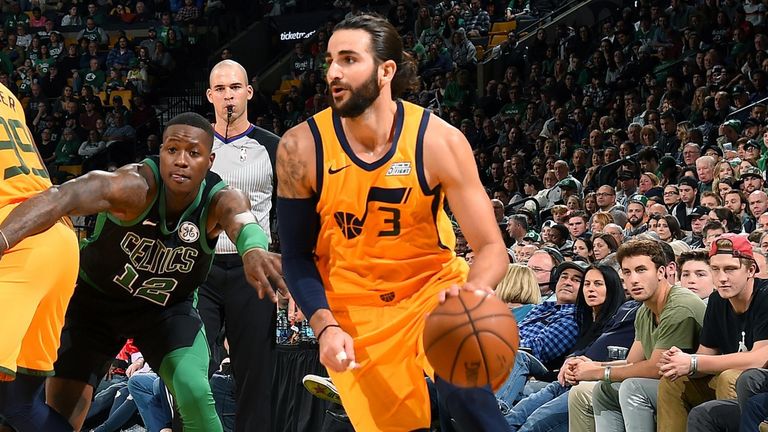 1:22
Highlights of the Utah Jazz visit to the Boston Celtics in the NBA
The Jazz ended a two-game winless skid with an impressive defensive show in Boston.
Just a few days after going down by 50 points against the Dallas Mavericks, the Jazz inflicted only a second home defeat on the Celtics this season, aided by some sloppy shooting from the floor and free-throw line.
Donovan Mitchell scored 28 points for Utah (8-8), hitting 10 of his 21 field-goal attempts a day after throwing up an incredible 35 shots in defeat against the Philadelphia 76ers.
Boston, paced by 20 points from Kyrie Irving, shot only 38.5 per cent from the floor and it proved an even worse night for them from three-point range where they managed to hit just five of their 33 shots.
Los Angeles Clippers 127-119 Brooklyn Nets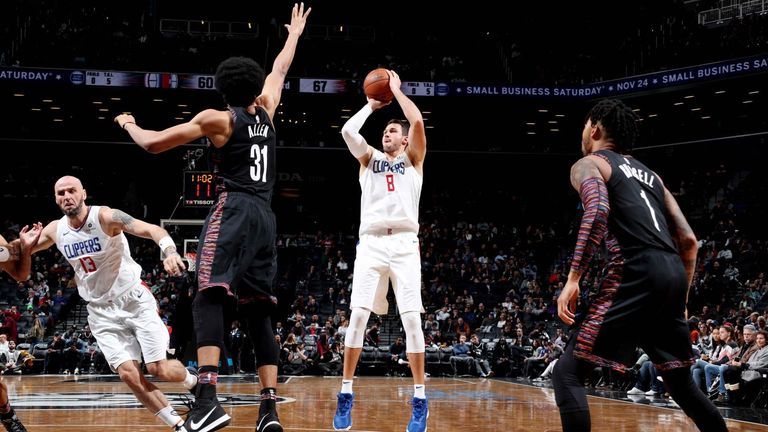 1:44
Highlights of the Los Angeles Clippers' visit to the Brooklyn Nets in the NBA.
Danilo Gallinari scored a season-high 28 points and Tobias Harris added 27 as the Clippers overcame a 15-point deficit to rally past the Nets at Barclays Center.
The Clippers did not get their first lead until Lou Williams hit three free throws with 8:21 left to make it 102-101. After five ties, Montrezl Harrell then snapped a 110-110 deadlock by driving to the rim for an emphatic slam.
The Clippers won their fourth straight as they opened a stretch in which they play 11 of 15 on the road. It was their second win in seven games when trailing after three quarters.
Harrell scored eight of his 16 points in the fourth quarter with an array of drives as Los Angeles outscored Brooklyn 37 22 in the final 12 minutes and shot 50.5 per cent from the floor.
Sky Sports is the new home of the NBA in the UK with live coverage throughout the week, including selected live games free to all Sky subscribers via Sky Sports Mix.
And www.skysports.com/nba will be your home for news, reports, video and features throughout the season while you can follow us @SkySportsNBA