Miami Heat guard Josh Richardson could face punishment from the NBA after he was ejected from his team's defeat to the LA Lakers on Sunday night for throwing one of his trainers into the crowd.
Richardson was upset about a non-call in the middle of the fourth quarter on his drive to the basket when a collision with Lakers guard Josh Hart was not ruled a foul.
Richardson's left trainer came off as he hit the floor and after angrily displaying it to a referee, he was soon whistled for his fifth foul of the game.
Technique pour Josh Richardson pour avoir lancé sa chaussure dans les tribunes. pic.twitter.com/u2CMtnVm5u
— JordaNBA (@Jorda_NBA) November 19, 2018
As Heat coach Erik Spoelstra tried to get Richardson to head to the bench, the 25-year-old fired his footwear into the stands, prompting a technical foul and an ejection from the game.
"I don't want to talk about it," said Richardson after the game. "It was a series of events, but I got caught up.
"I wasn't really thinking about much. I was thinking about how frustrated I was. And going forward, I can't let that happen."
Spoelstra, who also received a technical foul when Richardson was thrown out, wasn't happy about the sequence.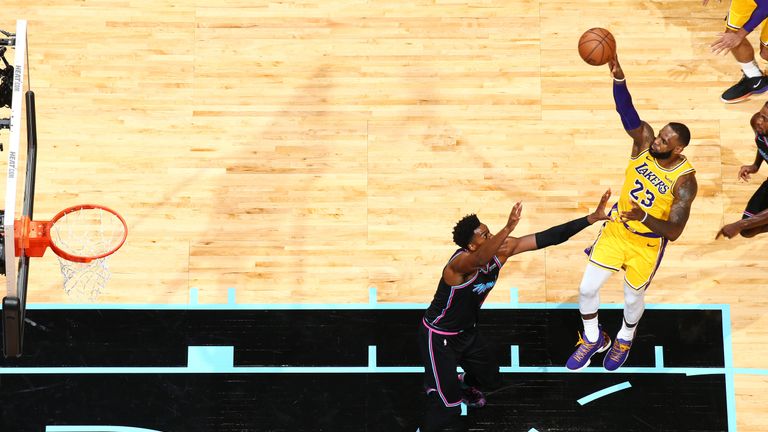 2:12
Highlights of the Los Angeles Lakers' visit to Miami Heat on Sunday November 18.
"You saw a competitive will come out," he said. "I think probably what you saw more than anything, and I agree with Josh – not throwing the shoe into the stands, that's unacceptable – but going in for the dunk when it looked like there was some contact there and he lost his shoe.
"From my angle, it looked like there was contact, and that's where probably the source of the major frustration came from. And also getting our tails handed to us for the majority of the game. It should bring out some kind of emotion out of our guys."
The Heat were trailing 98-86 at the time and wound up losing 113-97, with Richardson scoring 17 points in 25 minutes.
Live NBA: LA Lakers @ Cleveland
Thursday 22nd November 1:00am