Jimmy Butler scored 28 points in his home debut as the Philadelphia 76ers beat the Utah Jazz 113-107 on Friday night.
Friday night's results
Utah Jazz 107-113 Philadelphia 76ers
Chicago Bulls 104-123 Milwaukee Bucks
Portland Trail Blazers 96-112 Minnesota Timberwolves
New York Knicks 124-129 New Orleans Pelicans
Toronto Raptors 116-123 Boston Celtics (OT)
Brooklyn Nets 115-104 Washington Wizards
Miami Heat 91-99 Indiana Pacers
Sacramento Kings 104-112 Memphis Grizzlies
Utah Jazz 107-113 Philadelphia 76ers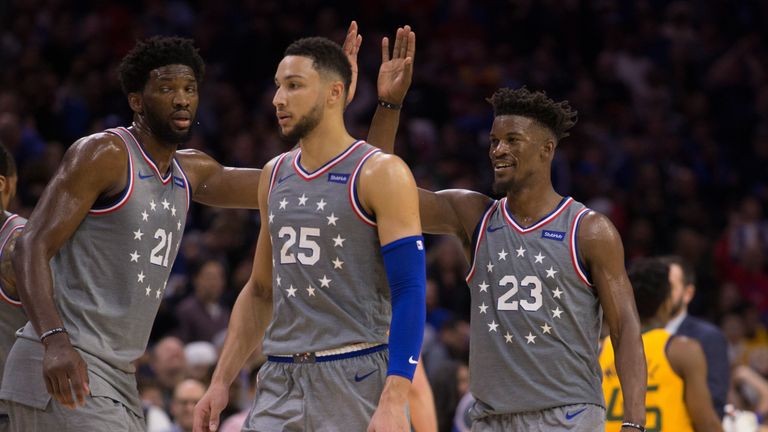 2:37
Highlights of the Utah Jazz' visit to the Philadelphia 76ers
Jimmy Butler scored 28 points in his home debut to lead the Philadelphia 76ers past the Utah Jazz 113-107 on Friday night.
Butler was 12-of-15 from the field as the Sixers improved to 8-0 at home this season.
Joel Embiid added 23 points, JJ Redick had 16 and Amir Johnson 11 for the Sixers.
Donovan Mitchell led the Jazz with 31 points but shot 13-for-35 from the field and 1-for-11 from three-point range. Joe Ingles added 14 while Derrick Favors and Ricky Rubio had 13 apiece. Rudy Gobert contributed 12 points and 10 rebounds.
The Sixers took a 16-point lead in the first quarter, shooting 8-for-8 to open the game. But the Jazz kept battling and eventually got within 54-52 at halftime.
With fans chanting his name, Butler converted a three-point play with 1.5 seconds remaining in the third to take an 86-84 lead.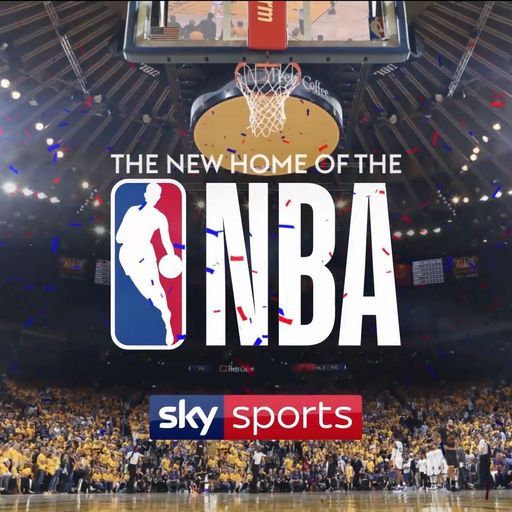 Get NBA news on your phone
Want the latest NBA news, features and highlights on your phone? Find out more
A tough basket in the lane by Embiid and a driving slam dunk by Butler gave the Sixers a 98-95 advantage with 5:35 left.
Mitchell finally knocked down his first trey on his ninth attempt and the Jazz retook the lead 100-98.
Following a steal, Jae Crowder ran down the court, picked up an offensive rebound off a miss by Rubio and scored for a 107-105 lead. Redick responded with a pair of free throws to tie the score at 107 with 1:27 left.
Butler received a pass in the lane from Ben Simmons and scored for a 111-107 advantage with 19.4 seconds remaining.
Chicago Bulls 104-123 Milwaukee Bucks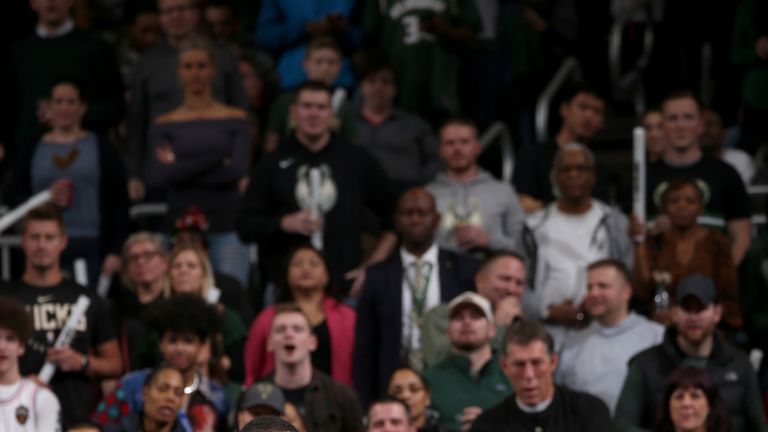 1:22
Highlights of the Chicago Bulls' visit to the Milwaukee Bucks
Giannis Antetokounmpo scored 23 points and grabbed 13 rebounds as Milwaukee erased an 18-point half-time deficit in the blink of an eye to beat the visiting Chicago Bulls 123-104.
Milwaukee turned up the defensive intensity to start the third quarter and outscored Chicago 46-17 to take control and cruise to the easy win.
Milwaukee outscored Chicago 78-41 in the second half and every member of the starting unit for the Bucks scored in double figures.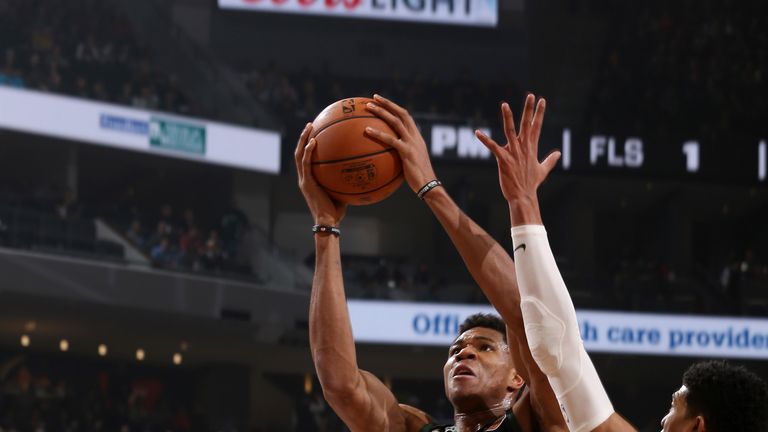 Image:
Giannis Antetokounmpo takes on the Chicago Bulls' defense
Khris Middleton's layup knotted the game at 74-all at the 4:15 mark and Antetokounmpo gave Milwaukee the lead for good on a follow-up slam dunk off a Middleton miss less than a minute later.
Eric Bledsoe sparked the Milwaukee third-period onslaught by scoring 14 points in the period. Bledsoe finished with 25 points, six assists, four rebounds and three steals.
Middleton nearly recorded a triple-double with 23 points, 10 rebounds and eight assists.
Portland Trail Blazers 96-112 Minnesota Timberwolves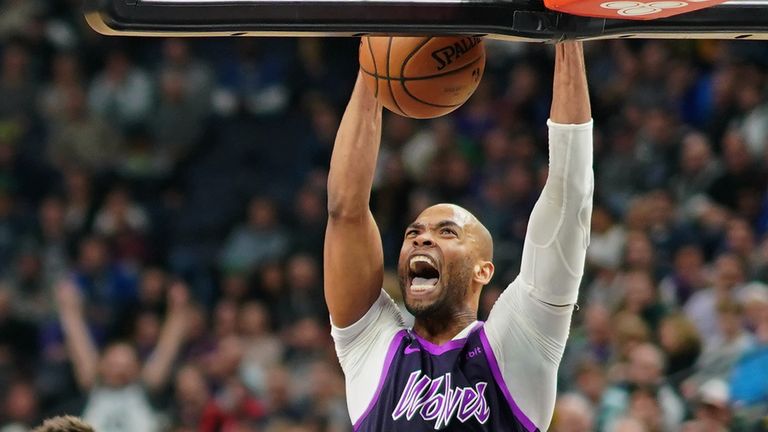 1:46
Highlights of the Portland Trail Blazers' visit to the Minnesota Timberwolves
Andrew Wiggins led six Minnesota Timberwolves in double figures with 23 points in a 114-96 romp past the visiting Portland Trail Blazers.
Derrick Rose scored 17 points, Robert Covington and Karl-Anthony Towns added 14 each, Jeff Teague had 13 and Taj Gibson contributed 12 for the Timberwolves, who won their third straight game and avenged a 111-81 defeat at Portland on November 4.
Minnesota shot .500 from the field, including 12 for 28 (42.9 per cent) on three-point attempts.
CJ McCollum scored 18 points, Damian Lillard added 16 and Jusuf Nurkic contributed 13 points and 11 rebounds for the Blazers, who have lost two in a row. Portland made only 8-of-29 shots from three-point range and had 18 turnovers.
Toronto Raptors 116-123 Boston Celtics (OT)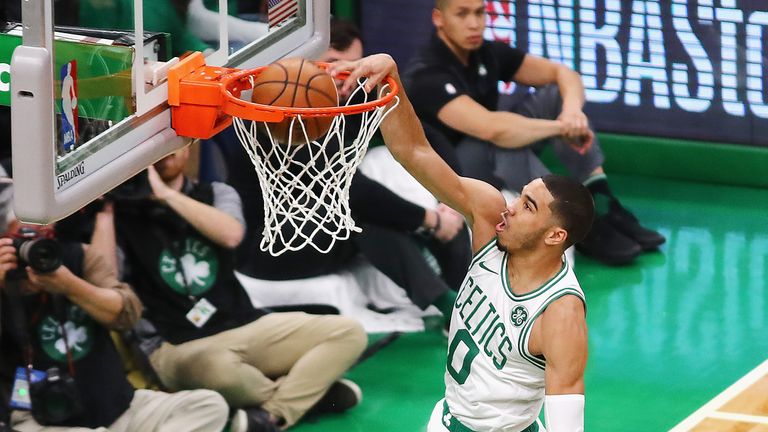 3:01
Highlights of the Toronto Raptors' visit to the Boston Celtics
Kyrie Irving scored a season-best 43 points, including four in overtime, and added 11 assists as the Boston Celtics came back to defeat the visiting Toronto Raptors 123-116 on Friday night.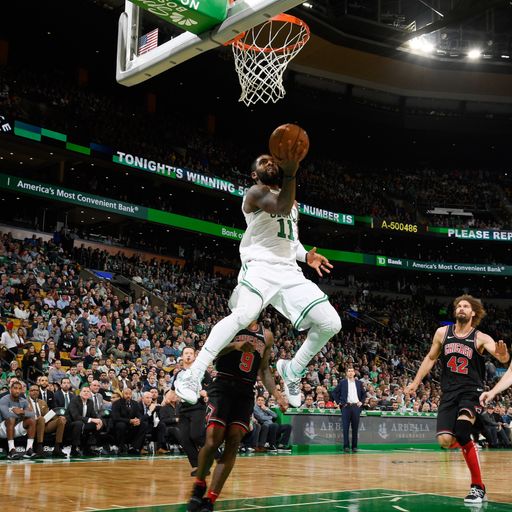 Watch Raptors @ Celtics replayed in full
Relive all the action, including Kyrie's magical 43 points, on Sky Sports Action, Saturday 10pm
Gordon Hayward made a jumper and Irving made a lay-up to give Boston a four-point lead with 3:43 to play in overtime.
When Jayson Tatum made two free throws with 3:09 to play, Boston led by five. Irving's 13-foot pull-up jumper gave Boston a seven-point lead.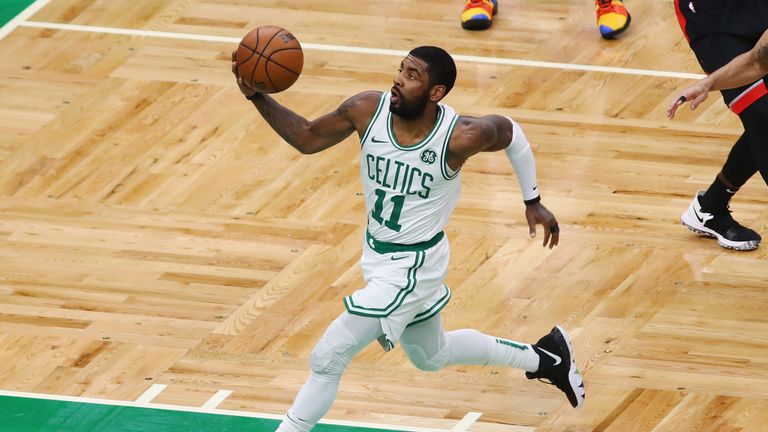 Image:
Kyrie Irving scores on a lay-up
Tatum added 21 points, Hayward had 15 and Marcus Morris and Al Horford had 11 each for the Celtics.
Kawhi Leonard led the Raptors with 31 points and 15 rebounds. Serge Ibaka added 21 points, Pascal Siakam 16, Kyle Lowry 14 and Jonas Valanciunas 11 for the Raptors. Danny Green also had 11 points for Toronto before fouling out with 3:43 to play in the fourth quarter.
New York Knicks 124-129 New Orleans Pelicans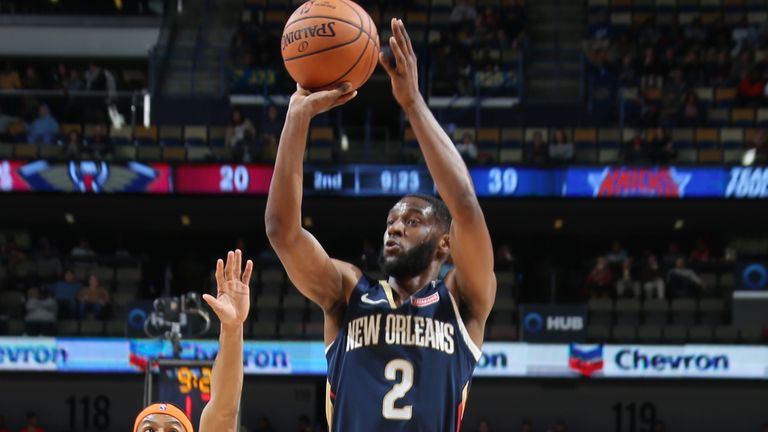 2:24
Highlights of the New York Knicks' visit to the New Orleans Pelicans
Anthony Davis had 43 points and 17 rebounds as the host New Orleans Pelicans overcame an 11-point deficit midway through the fourth quarter to defeat the New York Knicks 129-124.
Jrue Holiday had 24 points and 10 assists, Julius Randle came off the bench to score 19, E'Twaun Moore scored 13 and Nikola Mirotic scored 12 for New Orleans, who trailed by as many as 19 points.
Tim Hardaway Jr scored 30 points, Trey Burke came off the bench to score 24, Emmanuel Mudiay scored 19 and Kevin Knox and Allonzo Trier had 11 each for the Knicks, who lost their fourth straight and sixth in their last seven.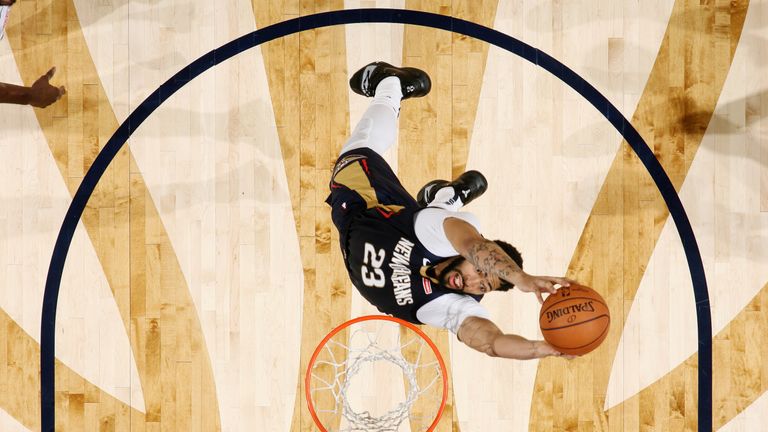 Image:
Anthony Davis throws down a dunk against the New York Knicks
New York, who had been outscored by a total of 67 points in three straight losses to Toronto, Orlando and Oklahoma City, looked poised to end their losing streak for most of the game, but couldn't hold on.
The Knicks led 114-103 lead midway through the fourth quarter before Davis and Randle brought New Orleans back. They scored six points each during a 19-5 run that gave New Orleans a 122-119 lead with 1:47 left.
Hardaway made two free throws and Davis missed two, but Randle grabbed an offensive rebound and scored on a put-back. Holiday's three-pointer pushed the lead to 127-121 with 35 seconds left.
Brooklyn Nets 115-104 Washington Wizards
1:38
Highlights of the Brooklyn Nets' visit to the Washington wizards
Spencer Dinwiddie scored 25 points off the bench and D'Angelo Russell added 23 as the visiting Brooklyn Nets defeated the Washington Wizards 115-104 to end a three-game losing streak.
The Nets broke open a close game in the third quarter and led by as many as 19 in the fourth.
Brooklyn center Jarrett Allen, who missed the Nets' previous game due to illness, finished with 16 points and 12 rebounds.
Dwight Howard led the Wizards with 25 points and 17 rebounds despite playing only 27 minutes before fouling out in the fourth quarter.
Bradley Beal scored 20 points and reserve Kelly Oubre Jr added 18 for the Wizards, who saw their three-game winning streak end. John Wall finished with 16 points on 6-of-19 shooting and had seven assists.
The Wizards made 3 of 17 (17.6 per cent) from beyond the arc against the NBA's top-ranked defense against the three-point shot.
Miami Heat 91-99 Indiana Pacers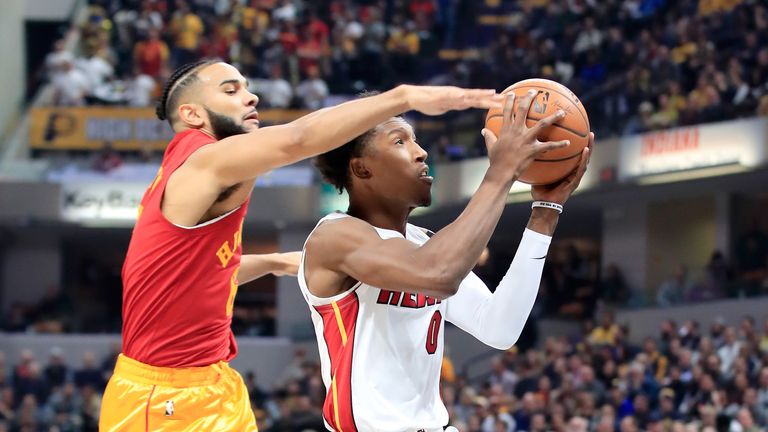 1:48
Highlights of the Miami Heat's visit to the Indiana Pacers
Tyreke Evans, Domantas Sabonis and Cory Joseph led a dominant bench effort as the host Indiana Pacers defeated the Miami Heat 99-91.
Evans scored 23 points and added 10 rebounds, both season highs. Sabonis added 15 points and 12 rebounds, and Joseph had 12 points, five assists and three steals. Sabonis has six double-doubles this season – two of them against Miami.
Indiana's reserves outscored Miami's bench 53-27, which helped the Pacers overcome an off night by All-Star shooting guard Victor Oladipo, who entered the game as the NBA's 14th-best scorer this season.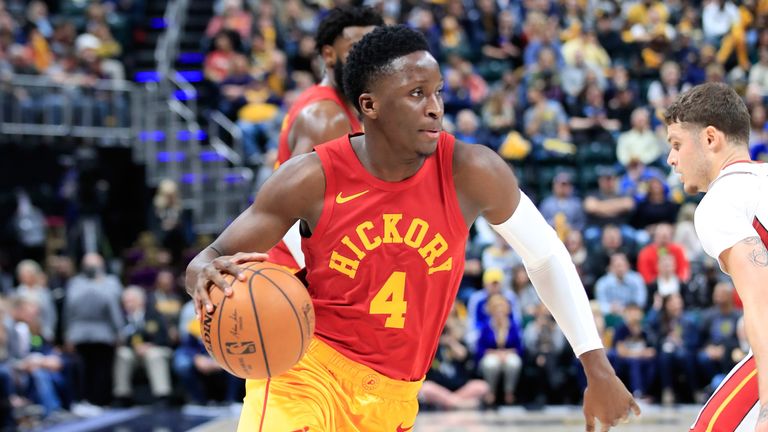 Image:
Victor Oladipo attacks against the Miami Heat
Oladipo was held to a season-low eight points on 3-for-12 shooting. His 13-game streak of scoring 20 or more points was snapped. Perhaps recognising he was missing his shots, Oladipo dished out five assists.
Miami was led by shooting guard Josh Richardson, who made 7 of 10 three-pointers and had a game-high 28 points. His seven threes tied a career high.
Heat guard Dwyane Wade, who is on paternity leave, missed his sixth straight game.
The Heat further to within three points with 92-89 with 1:27 left in the game. But Indiana held on as Oladipo made a big three-pointer and Evans hit four free throws down the stretch.
Sacramento Kings 104-112 Memphis Grizzlies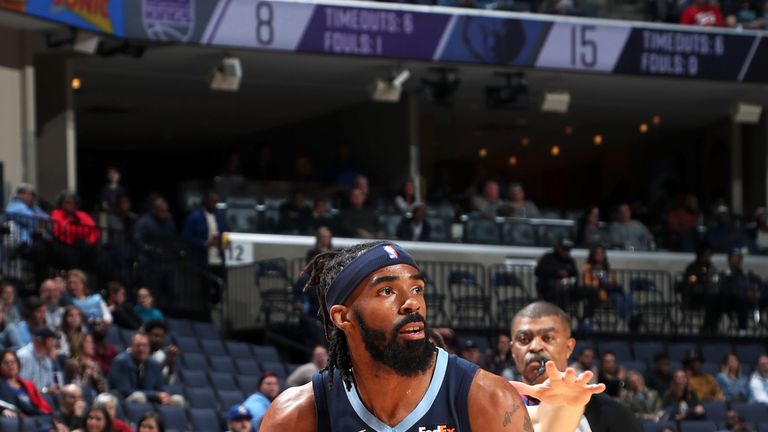 1:51
Highlights of the Sacramento Kings' visit to the Memphis Grizzlies
Jaren Jackson Jr scored a season-high 27 points, leading the host Memphis Grizzlies to a 112-104 victory over the Sacramento Kings.
Grizzlies center Marc Gasol scored 10 of his 19 points in a 22-7 run that closed the first half and opened an 11-point half-time lead. Memphis never trailed in the second half.
Jackson, whose previous high was 24 against Atlanta last month, combined with Garrett Temple for all the Memphis scoring in a game-opening 15-2 burst. Jackson had four hoops in the run, including a three-pointer.
Sacramento rallied to go up 44-40 with 7:02 remaining in the half, but the Grizzlies used their 22-7 burst to take charge for good.
Jackson hit 11 of his 16 shots en route to his game-high point total. He also added six rebounds, four steals and two blocked shots.
Mike Conley contributed 19 points to the win, which improved Memphis' home record to 6-1. Temple (14 points) and Wayne Selden (10) also scored in double figures for the Grizzlies.
Sky Sports is the new home of the NBA in the UK with live coverage throughout the week, including selected live games free to all Sky subscribers via Sky Sports Mix.
And www.skysports.com/nba will be your home for news, reports, video and features throughout the season while you can follow us @SkySportsNBA