The Utah Jazz ended a two-game winless skid with an impressive defensive show in their 98-86 win over the Celtics in Boston.
Just a few days after going down by 50 points against the Dallas Mavericks, the Jazz inflicted only a second home defeat on the Celtics this season, aided by some sloppy shooting from the floor and free-throw line.
Donovan Mitchell scored 28 points for Utah (8-8), hitting 10 of his 21 field-goal attempts a day after throwing up an incredible 35 shots in defeat against the Philadelphia 76ers.
Game Leaders
Utah Jazz
Points: Donovan Mitchell – 28
Assists: Joe Ingles/Donovan Mitchell – 6
Rebounds: Rudy Gobert – 9
Boston Celtics
Points: Kyrie Irving – 20
Assists: Gordon Hayward, Terry Rozier, Marcus Smart – 3
Rebounds: Kyrie Irving – 8
Ricky Rubio weighed in with 20 points, with he and Mitchell also contributing on defense with three steals apiece.
Boston shot only 38.5 per cent from the floor and it proved an even worse night for them from three-point range where they managed to hit just five of their 33 shots.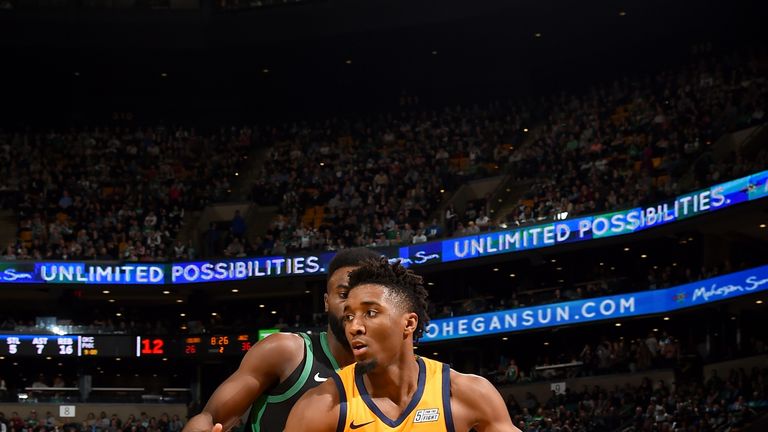 Image:
Donovan Mitchell and the Utah Jazz had the Celtics' measure on Saturday night
Kyrie Irving top-scored for the Celtics with 20 points but Jayson Tatum was the only other Boston player to even reach double figures.
Saturday's results
Los Angeles Clippers 127-119 Brooklyn Nets
Philadelphia 76ers 122-119 Charlotte Hornets
Atlanta Hawks 89-97 Indiana Pacers
Los Angeles Lakers 117-130 Orlando Magic
Denver Nuggets 115-125 New Orleans Pelicans
Utah Jazz 98-86 Boston Celtics
Toronto Raptors 122-83 Chicago Bulls
Sacramento Kings 112-132 Houston Rockets
Golden State Warriors 109-112 Dallas Mavericks
Oklahoma City Thunder 110-100 Phoenix Suns
Mitchell, who scored 31 points on Friday but failed to record a single assist, admitted it had been easier for the Jazz to respond to their defeat in Philadelphia without a day off in between
"I had no time to think about it. I didn't watch the film from the game, actually," Mitchell said. "Didn't even think about that game. Just went out there and hooped."
Live NBA: Memphis @ Minnesota
Sunday 18th November 8:30pm
"I didn't really do too much but just being in the right spot and keeping my mind focused on the game plan."
Sky Sports is the new home of the NBA in the UK with live coverage throughout the week, including selected live games free to all Sky subscribers via Sky Sports Mix.
And www.skysports.com/nba will be your home for news, reports, video and features throughout the season while you can follow us @SkySportsNBA