Carmelo Anthony is on his way out of the Houston Rockets after on-court struggles, off-court rumours and reports of his dwindling role with the team.
The Rockets registered a 107-86 victory over the visiting Golden State Warriors on Thursday night as James Harden scored 12 of his team-high 27 points in the third quarter, while the organisation confirmed Anthony's exit.
General manager Daryl Morey issued a statement that read: "After much internal discussion, the Rockets will be parting ways with Carmelo Anthony and we are working toward a resolution.
"Carmelo had a tremendous approach during his time with the Rockets and accepted every role head coach Mike D'Antoni gave him.
"The fit we envisioned when Carmelo chose to sign with the Rockets has not materialized, therefore we thought it was best to move on as any other outcome would have been unfair to him."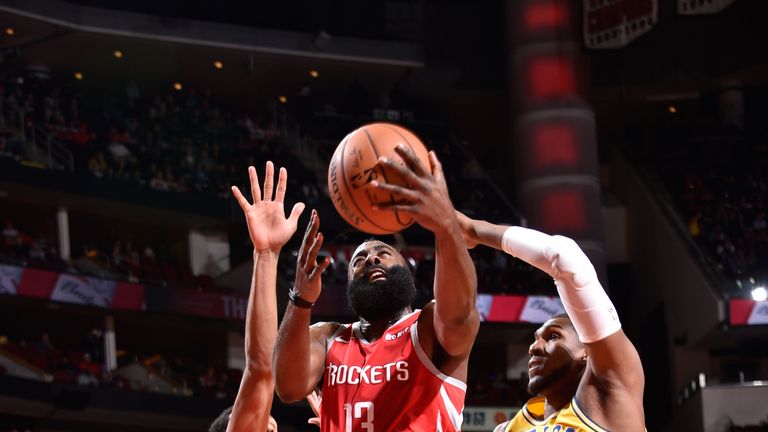 Image:
James Harden starred in Houston's win over the Golden State Warriors
It has been reported that the Rockets were placing the 10-time All-Star on waivers and Anthony's representatives spent Monday contacting NBA front offices regarding a potential new home.
According to those reports, several GMs and their respective coaches were discussing whether Anthony could be helpful to their organisations.
However, it is a tough time of year for teams to make roster moves, and patience could be Anthony's best short-term course of action.
Live NBA: Toronto @ Boston
Anthony appeared in 10 games this season, including two starts, and he averaged 13.4 points and 5.4 rebounds in 29.4 minutes.
Anthony, 34, signed a one-year, $2.4 m veteran's minimum contract with the Rockets after he agreed to a buyout with the Atlanta Hawks before the start of the season. Houston would be on the hook for that contract if it decides to waive him.
The Hawks acquired Anthony from the Oklahoma City Thunder in a July trade, then waived him before he played a game with the team.
The Rockets have struggled on both sides of the floor thus far this season, limping out to a 6-7 start, leaving them in 12th place in the Western Conference entering Thursday.